Day 22: Phoenix with budding chef, Molly Gaffey
March 27, 2000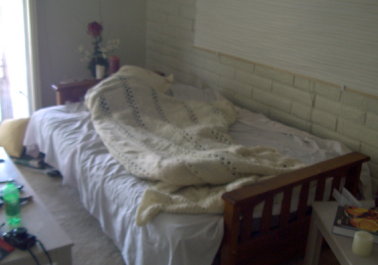 10:15A - My first real sleep in. ahhhhhhh. 7 hours of peaceful sleep under a killer quilt.
11:50A - Finished my phone conversations with Boston and LA. Now it's time to plan the final half of my journey. Today is Day 21 - halfway started according to my watch.  I have many cities to hit and a few key timing issues that i have to work out. The Las Vegas necessity made my days very predictable until now. From here on in, i have no where to be but Natick for Passover.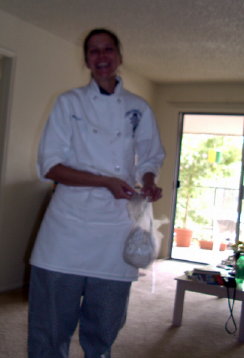 Molly is going to school for 12 months at the Scottsdale Culinary Institute.
Daily class from 7:30a to 2:00p with 30 humans on 30 Stoves - today they worked out a double saute. that's 2 at once. In the meantime the class slow-cooked a rack of lamb and a nice shrimp scallop pasta.
Molls took me in the Explorer (embarrassed to ride in SmartBeetle) to Hole in the Rock. a cute 200 foot tall outcrop of stone in the middle of Scottsdale. A helluva view of the greater Phoenix area. Quiet - warm - peaceful. just what the doctor ordered. The cops were out in full force.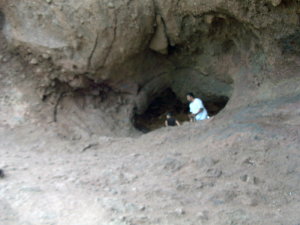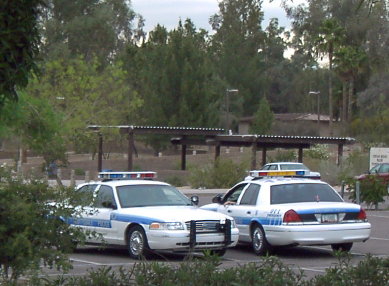 Don't mind the pasting - it was a great sight.

Even got a glimpse of the first night of a trip to Mexico 4 years ago....the Phoenix Zoo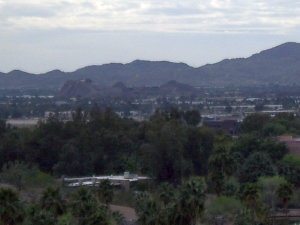 4:48P - made it home and met a guy in the parking lot with a '73 CJ5 - same as my old blue jeep - Molly graciously posed for a picture.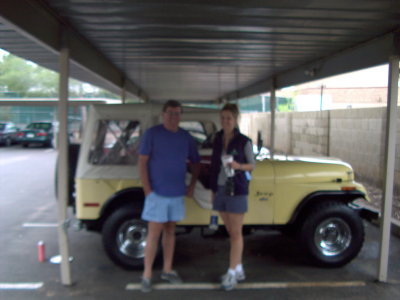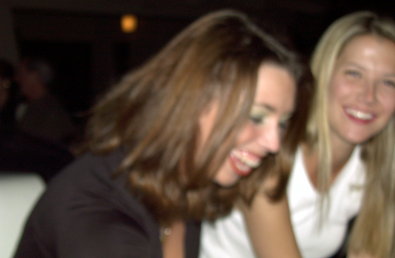 9:40P - Drinks after true tex-mex appetizers at a place called ZZTop 88 - or maybe it's AZ 88 - either way, it hits home. We had some serious laughs and tried to tip well. Benji, D.J., Molly, Cara & Me - all mid-michiganders talking of hometown goofiness.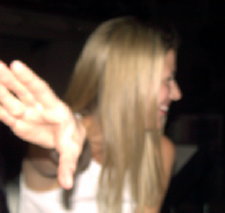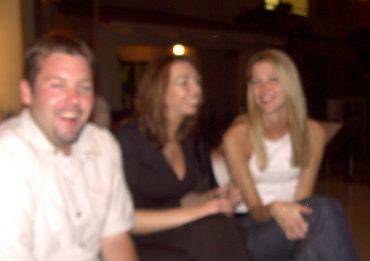 1:46A - Well i have learned - no maybe remembered - quite a bit tonight. One, that men and women are not all that different. it just takes a bit of coercing for men to get as comfortable with themselves as women are. i know what you're thinking - it's not about me though. it's about people in general. we're all out to enjoy ourselves as much as possible. and some of us have it in our heads that we can do the same with another person by our side. hard core into it, maybe it's a dream, maybe it's a nightmare. i like to think of it as a possibility. who was it who once yelled "keep hope alive". it rings true as 2+2=4 tonight. in the end we all should rest well knowing that the answer is 4.
One more thing i just though of before bed  - We all enter this world bare-naked and crying our eyes out. Sometimes, some of us leave it fully clothed in 3 thin layers, alone & hidden. And no one every sees us cry or knows what we were really wearing underneath. That's the sad truth.  Maybe opening up to others is the secret of avoiding the desperate finality of eternal loneliness.
Arizona patio & Ford Explorer music:
96.9 80's & early 90's "classics":

New Order: Regret
Video Killed the Radio Star
REM:Eponymous
Dave Matthews:Before these Crowded Streets
Magnolia Soundtrack
Ballast Update
Another vest bites the dust - size small...Molly.
Three (3) more quarts of water loaded up for tomorrow's hike to X.
Minus Twenty (20) more postcards delivered to various eating & watering holes in Scottsdale, AZ.
'nother box o Tic Tac's.