Day 42: New York City
April 16, 2000
10:50A – Davis and I are up and lulling around the apartment. i have photos galore to plow up to the Web server and organize. We settle on Chinatown as our first destination of the day.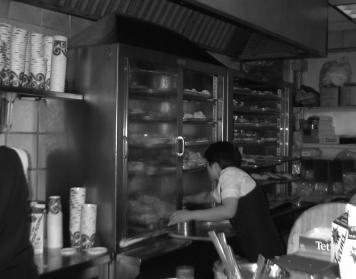 2:30P – Lucky & I take the N train south to Canal Street and Chinatown. We are in search of the mystical total of weak light. After 15 minutes of walking the orange neon DIM SUM stares at us. We enter and one of the proprietors, an older asian man, ushers us to a round table for 7 and proceeds to set others next to us. Our reaction of jumping up and seating ourselves at the 3 stool bar is primarily due to our lack of control of the situation. While at certain times, either of us would happily sit and chat with people at the same table, today our choice was to sit alone. This man assumed we were in the mode to comply...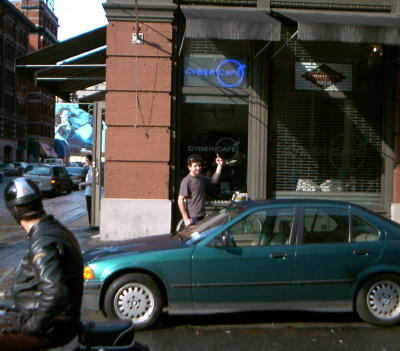 "Forget it Jake, it's Chinatown." Not LA, but close enough. While finally devouring our Shrimp Rolls and Sticky Rice, he kept staring at us, but never catching our eyes. I wish we could subtitle our expressions for him - hewould see small white text below our english speaking mouths stating "Avert your eyes, old one"
4:10P
- Cyber Cafe near Little Italy - well said Lucky! Who ever heard of enjoying a sip of expensive coffee and Instant Messaging on a gorgeous day like today in Manhattan?
snapped a shiny new york beetle....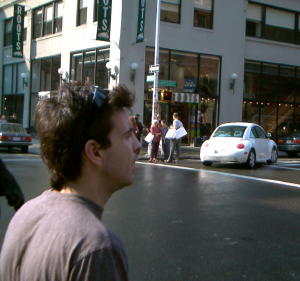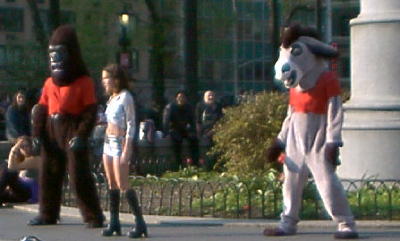 5:13P - Our walk home took us through Union Square where we were witness to a small shiny girl dancing to club music, flirting and toying with both a 7 foot gorilla AND a 7 foot donkey .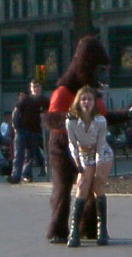 The Gorilla looked to be having a grand old time, and the donkey either jealous or just plain disgusted with their behavior.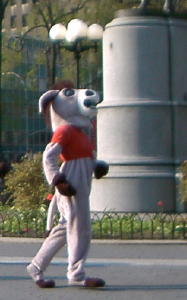 I guess i accept the axiom: There IS a little something for everyone in New York City.
7:00P – home to update the web and dump the digital pictures of oddities in New York. We skip out on a repeat episode of the Simpson's and walk down to Mr. Bigg's for dinner.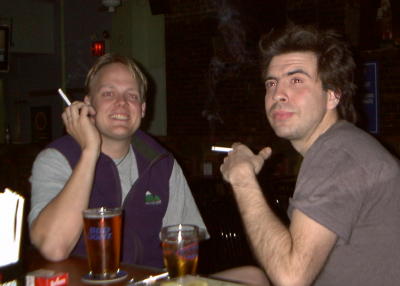 8:10P – Buffalo Chicken Wings and Lucky has a burger and fries. Fried food digestion is assisted by a bit of the brownest of the brown liquors as well as a few Red Hook's. I miss my Harpoon IPA.

Porno for Pyros is on the Juke and the professional singer Vonya serving us drinks seems to be enjoying the night as much as we are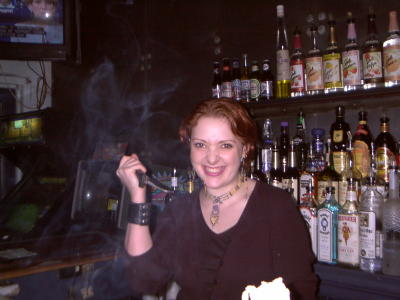 11:45P – home for 20 minutes of Lock, Stock and Two Smoking Barrels and I am off to a southern phone call and bed. Tomorrow is Boston & the Marathon. Wonder how the Big Dig is coming up in Boston? Is my apartment in livable condition? Can i hold out til Thursday morning?
Missing a 'home'
The last few days i have started actually 'missing' being in the peace and quiet of my home in Vermont.
Could it be the length of time i have been away?
Could it be the relative proximity to home after being 'on the road' for over 40 days?
Maybe it's the new chapter in life this trip has started coupled with Einstein's Relativity making me seem closer than i really am, and making the trip seem longer that it really is.
Most likely though, it is probably that old friend, Catholic Guilt, creeping into my consciousness - questioning whether giving up society was really a 'sacrifice' or not.