Day 9: Working remotely with Harpoon Brewery in the Badlands
March 14, 2000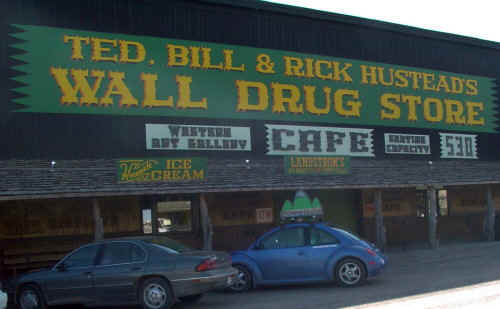 7:00A MST - no alarm. up just after dawn. showered, shaved and out to check out the famous Wall Drug. Made a "Call fromWall" to Harpoon - 1566 miles to the Brewery. Breakfast of Pancakes and Sausage, then a little shopping in the "drug store".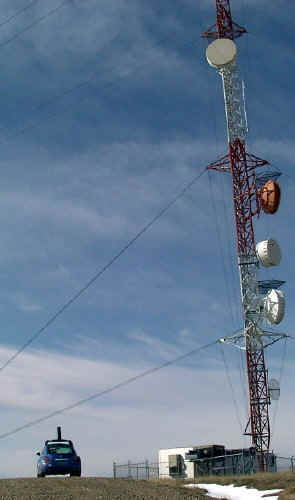 Drove south 10 miles to the Badlands. Found a expertly placed radio tower and nuzzled the beetle up to within feet. "Hedgehog to base, hedgehog to base..."
Got myself in good viewing position on the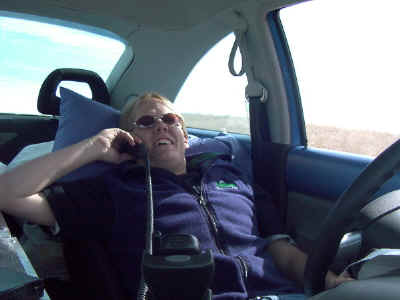 rim-road of the Badlands, parked the car, opened the window and worked with the seat kicked back for and hour and a half on database importing. This office has one helluva view.
Started the 26 mile drive through the National Park, I stumbled on some Little Dogs on the Prairie and a herd (?) of Ta-Tonka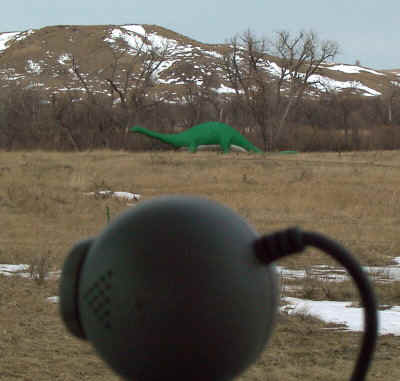 i think the REAL Jurassic Park research happened here!
Like the Grand Canyon, the Badlands evoke the  gnat-on-the-rear-of-a-buffalo-on-the-side-of-some-seldom-travelled-highway feeling in my head. 
I find an interesting alternative to the SmartBeetle design - No Internet or GPS, but...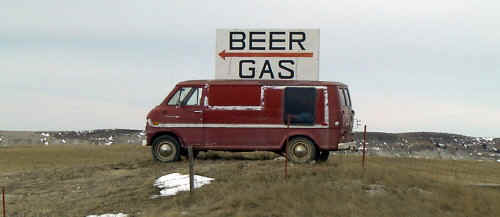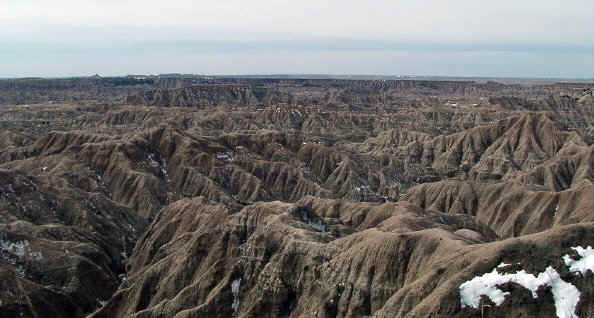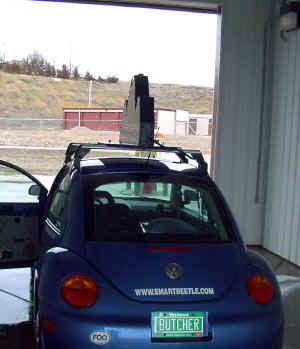 11:00A MST - well, Rapid City, SD, already 3 hours behind the supposed schedule, i somehow rationalize a 15 minute Car Wash to clean the grime and grit brought on by 2800 miles in 7 days. Mr. Roboto looks 2 years younger. Problem is, i'm in South Dakota. It will be filthy in a matter of hours - $4 down the tube.
1:15P MST - Mount Rushmore. The four presidents. Elevation 1.1 miles.
Wow, wow, wow - is all I can say. Even handed out some postcards to the gate and some tourists!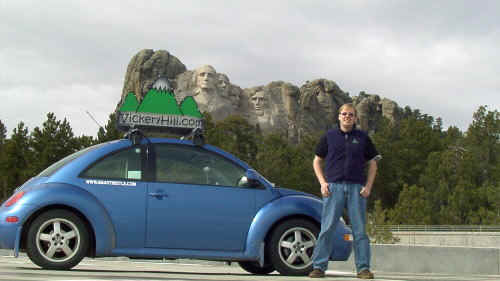 1627 miles as the crow flies from Harpoon.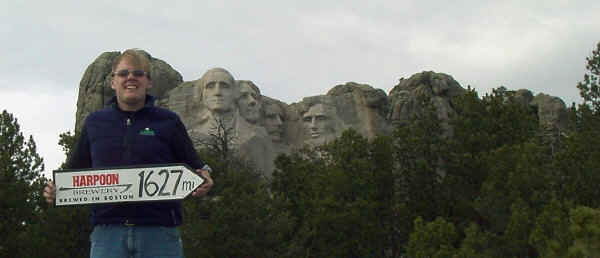 "(Abe) i wish i coulda been there for ya"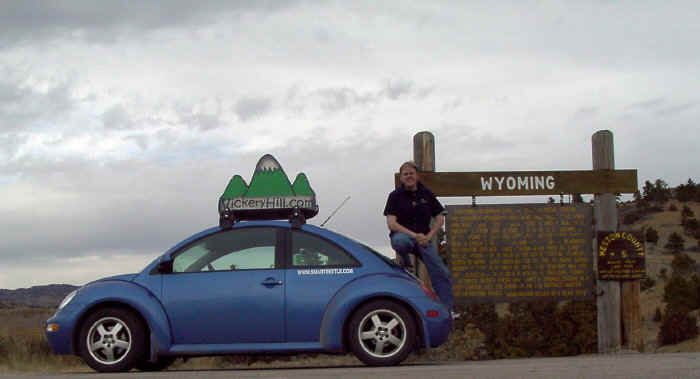 2:30P MST - Drive west out of the Black Hills headed into Wyoming. There is no way i could make Seattle before Wednesday morning, so i think subconsciously i am lolly-gagging about and having a decent time of it.
Wyoming - Subconscious kicking in: Turn down the cruise control. Pay attention Butcher. I pull out Suzy B and give her a quick rub for luck.
Lo and behold - the tiny city of Newcastle, Wyoming has a one person CellularOne office - and they actually have the external antenna I lost back in Michigan. $16.50 and more parts than I needed, but I am back to full strength and zero missing parts.

Cross the Montana border just at Dusk. I guess i am going to miss any reference to "Big Sky" as far as daylight is concerned. i've got to hump it through and get as close to Seattle as the road allows, so i have some time to spend in the Emerald City.
Sunset over the Rockies as I head north into Montana
9:10P MST - Well, Dave Houle from LA is on the phone (yep, i am attempting to type, drive and talk on the phone. Pickering would be impressed - but i type in misspelled short hand with my right hand). He called me back to talk about our San Francisco plans, and i relayed how i had not seen a gas station exit since my tank was 1/3 full. Well, now i am nearing empty and the warning light came on. Pulled off exit 380 or something and the damn Sinclair dinosaur station is closed - at 9PM??? Zip back on and check the PC - next exit is 8 miles, they have no service stations.
10 miles later, Big Timber is coming up on the view screen, and guess what - the bug starts sputtering. So i start the yet-to-be-proved steering-wheel-tank-slosh. Zoom off the Exit doing 50. Blow the stop sign at 40. 2 miles to Big Timber. 3 more deep sputters and as many tank sloshes. I see a Sinclair Gas sign 500 yards down the road. more sputtering, but we (dave on the phone and I) are headed downhill. I have already cut all power-sucking devices (inverter, lights, sign, GPS, dash lights) and i begin screaming at her to make it. The station is at the top of the next hill. The car stalls and the power steering goes out. I crest the hill and roll in doing about 3 miles an hour. Disaster averted. I filled up all the way to the cap of the 14 gallon tank and it took 14.918 gallons. Ask Houle, he was laughing all the way..
Note to Self: Fill up often
10:38P MST - Continental Divide is but a green sign over the freeway, which i almost miss due to my speed: "Continental Divide Elevation 6383".  Ok.
10:59P PST - Butte, Montana. Another Holiday Inn Express and another wahoo day and long drive.

Ever since we removed the passenger seat in Vermont and unplugged the side airbag, I've been staring at the Airbag Warning light in the dash. I've begun to imagine it rather as a warning that a medicine ball tossed off an overpass is about to come smashing through the windshield at 81 miles an hour and, too bad, i am wearing a seatbelt and can't avoid it.
SEATTLE TOMORROW BY 7PM. WA-HOO-OOOOO!
Music of the day
Frank Black: Teenager of the Year
REM: Murmer
XTC
Cirque de Solei: O
Dave Matthews Band: Live
Grateful Dead: Long Strange Trip