Day 10: The last westward leg - Destination=Seattle.
March 15, 2000
7:00A MST - up and at 'em. Free breakfast again with HolidayX. Woke up singing yesterday's theme song - Pilgrimage by REM. Gas up and head out - 8 1/2 hrs should get me to the "Lighthouse"
BEWARE THE IDES OF MARCH!  Hopped in the beetle, turned on the Beatles and looked over my shoulder for any sign of a Brutus!
9:49A PST - Live Update doing 80mph on the freeway, just east of Missoula...Belforti would be proud. Networking and driving, it's about as easy as skiing and doing your taxes.
11:22A PST - Stopped in Superior, MT for Fuel. Montana is slowly drifting away

I just pulled off the highway and into my 5th or 6th supposed "Fireworks" store. These handmade signs have been popping up 50 yards or so before an exit ever since i made it through Wisconsin. They are simple. Straight to the point. Tempting.
Who doesn't have memories of almost losing a finger to a brick of BlackCats or of being chased around by a frantic parent because of a simple "bottle rocket war"?
Well, I admit it. I want some firecrackers to bring back home with me. not a trunk full, just a few bricks of lady fingers and gross of bottle rockets. something for parties to impress the kids. problem is - every taunting sign leads you to a boarded up shack around the corner just off the exit ramp, behind a patch of trees. I have to stop listening to their whispers. Fireworks must be banned in all 50 states by now. these signs must be part of a midwest FBI sting operation. Admission of the problem is the 1st step in curing it - or so i've heard.
1:00P PST - Jut through Idaho - that's the 15th State in 9 days (1111th state in binary, Harris!)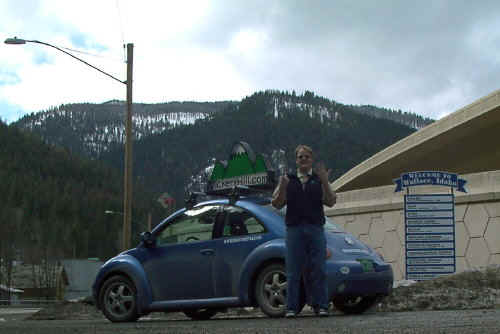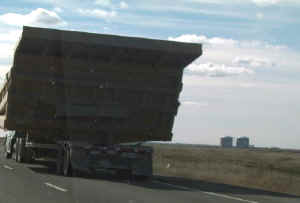 1:47P PST - west of Spokane. Puget Sound feels within my reach. i just spent 15 minutes behind a double wide oversized load of Paul Bunyan Tonka Truck parts.

Just heard SoundGarden:  - I find it hard to stop smiling. 7 years since i've been here, and Grunge still calls this place home - Kurt, i hope you're AOK wherever you are. sorry 'bout the scars. Dave & the Foo Fighters are making a decent run of it.

2:00P PST - Zips for lunch. paper QUOTE! BBQ burger, fries and fresh strawberry shake. unhealthy, but good.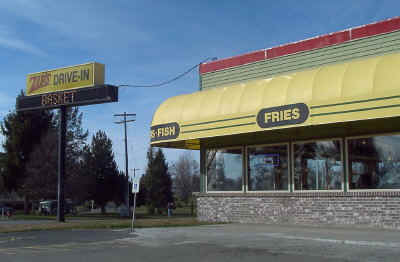 4:30P - 6:00P PST  Being trailed by a couple in a Jeep who keep passing me and letting me pass them. They are laughing....seeing as how they can't possibly know me, i would bet they are laughing AT me, not with me.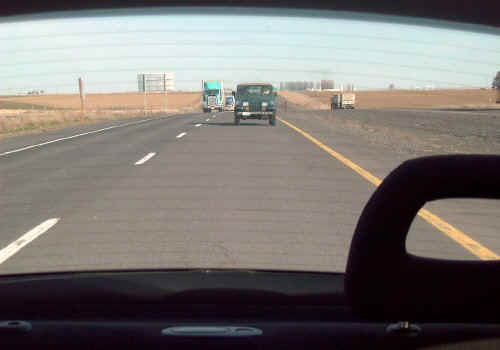 6:26P PST - Arrive Seattle.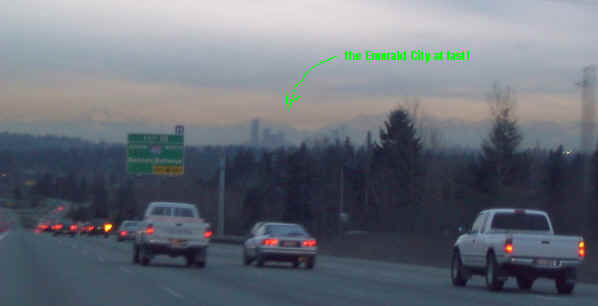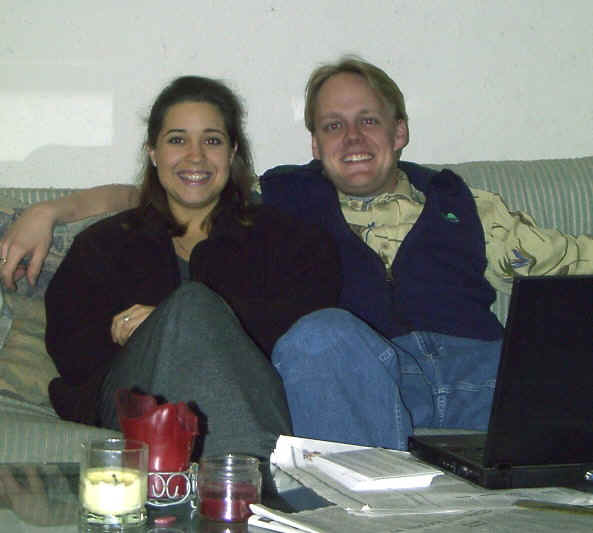 Home of Erin Hitchcock. Met her at college and we've been friends ever since...until 20 minutes ago, my mind was showing signs of exhaustion, but i am wide awake at the thought of being here on the other side of the continent.
8:30P PST - After fixing roommate Kelly's Outlook PST problem (my kung foo is the best!), we drove downtown for a few poorly focus'd pictures. Parked out front ($6) of the excellent Marco'Supperclub (cute) for, get this, Fried Sage Leaves with 3 types of salsa, Pear Salad with Filberts & Gorgonzola, and Pork Au Pommes (that's French for Pork "with Apples" for those of you playing at home). Lemon Creme Brule' for dessert. We told them we would like to split everything and they actually brought us 2 plates of all three items - nice people they got here.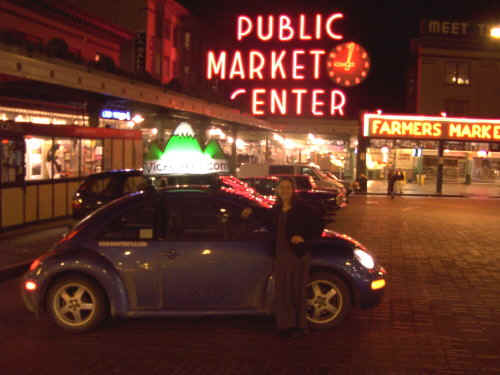 Oh - found my first MAX GoCard dispenser outside the bathroom. Removed the redundant Motorola flip phone postcard and replaced them with 30 stamped VickeryHill.com's. I think therefore I Moo! We'll see if any come back postmarked Seattle.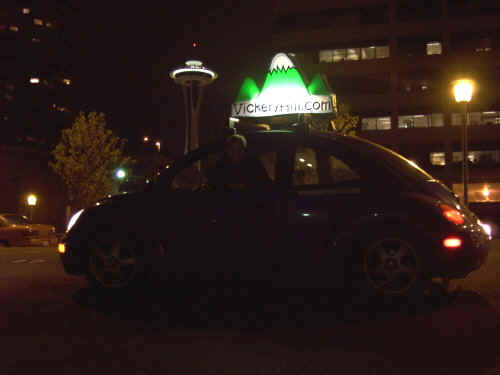 Tonka Addendum: I ended up playing this waiting/passing game with 4 of the giant Tonka Truck Parts carriers across Washington State. When i made it to Seattle, Erin's roommate's fiance' tells me of a state law only requiring a vehicle to pull over and allow passing if there are 5 or more cars delayed behind it - ah, that explains everything...
Balast Report: 17th and 18th bottle of water (some filled up at Stations). I am not sure, but I would bet 4 boxes of Tic Tac's. I estimate 175 postcards distributed and i am down to 39 vests. The women at the Lighthouse let me wash all of my laundry as well - it's 2AM and i am packed and ready for 16 hours to San Francisco tomorrow!