Day 11: Downhill to San Francisco
March 16, 2000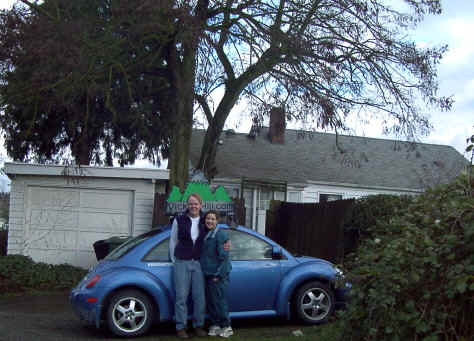 6:30A PST - eyes popped open and Celine Dion is screaming in my head. what a nightmare to wake up to. The sun is kind of shining through the window and it looks like a beautiful day to drive. Drove south on I-5 and checked the map software - 12 hours to San Francisco
For some odd reason, leaving the east coast and heading west feels like driving uphill. Like a chore or real work. Friction. Now that i am heading south down I-5, it feels like a casual stroll downhill to California. Maybe the tire studs are worn off so much that it feels easier driving.
My last look back on Seattle. It's partly sunny, partly rainy, partly cloudy, windy and calm - in other words, normal.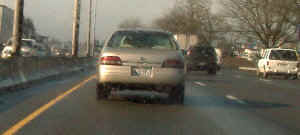 Another gawker - hope he checks out the web tonight
Immediately remembered that an oil change was due (4000+ miles). Got on the web and searched for a VW dealer in Olympia. Hansen Motors answered the phone. I told them my story, they let me know they were booked and could not fit in a SmartBeetle Oil Transfusion.  Surfed for Jiffy Lube and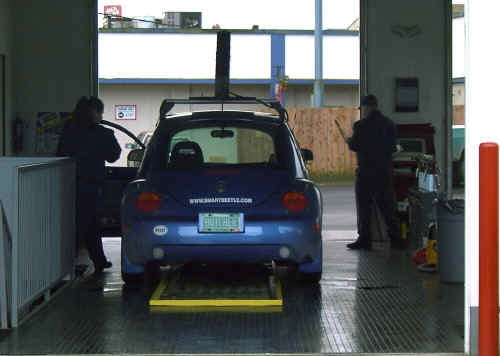 viola - 1 hour away. I called and Darcy said "no problem - it'll take 10 minutes".
These guys were nice, efficient and to the point - with a bit of laughter in between. I wonder if NASCAR pitstops at Daytona feel like this - everyone doing their job and doing it well. 9 minutes and out the door with brand new wipers, oil, washer fluid, interior vaccuumed and windows washed - $51.81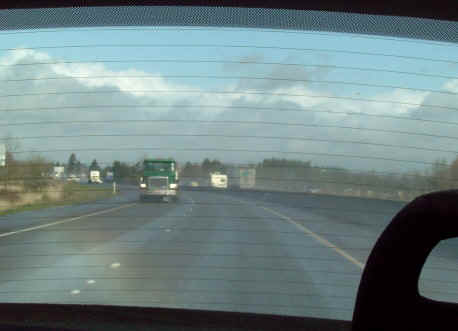 10:45A PST - Entrance on the highway dropping through the gears singing almost every word to The Outfield - old school tunes. Check out the rear view and it's so wet and sunny here, i am being tailed by a rainbow (lower left)
Oregon feels it's OK to taunt me with much more professional firework adverts - they even know my brand!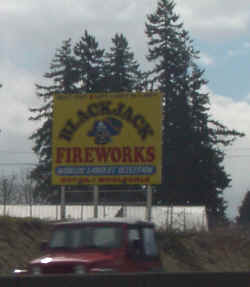 Waited on hold for 15 minutes with DeLorme tech support in Maine to find out answers to two questions. David finally answered and gave me the good and the bad:
Q: Can i easily export maps to HTML or JPG so i don't have to spend 15 minutes a day cutting and pasting?
A: Nope - the maps are proprietary and anyone and their brother could compete by printing detailed maps.
Q: Can i convert or export my GPS logs to Comma Delimited so i can graph my data in Excel? A: Converters available on the sci.geo.satellite-nav newsgroup
I am satisfied and will have data posted soon!
11:30A PST - Blaze through Portland, Oregon.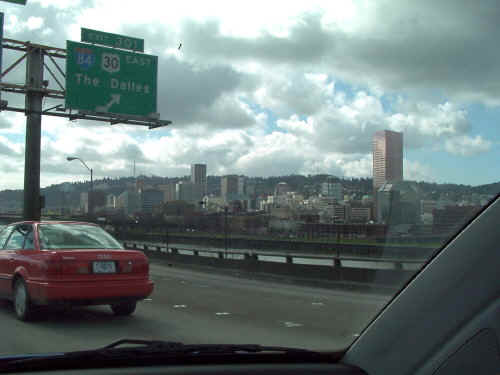 12:32P PST - Just south of Portland, Oregon, i stopped to have lunch on the highway and update the web. The sun is shining bright and the horizon is wearing a crown of billowy clouds. Should be in  San Francisco by 11:30P!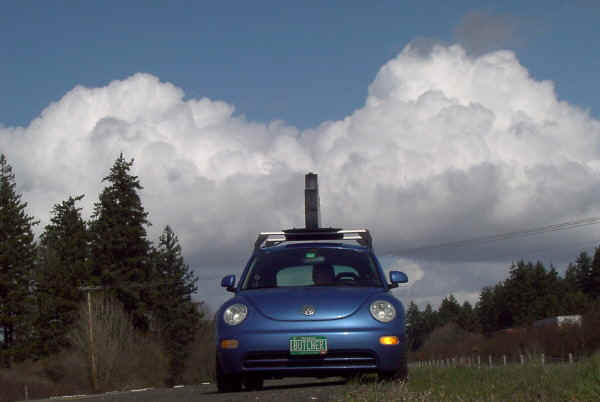 1:00P PST - 4200 miles and still no Brittany? Came up on a middle aged (?) woman in a Corvette and smoked her. 2.0 liter nail-head Barney! She was nothin' but rear-view baby!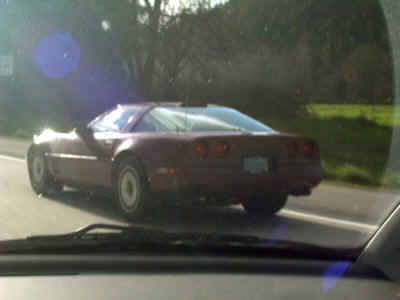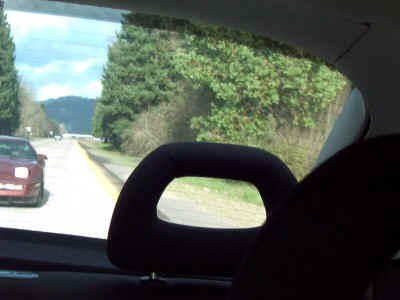 and then it started to wain and bwow somthing fiewce.
5:47P PST - Mt. Ashland Pass. And California at long last!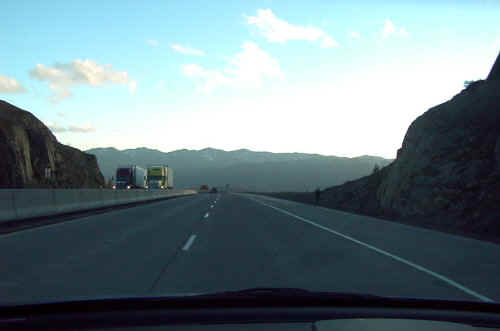 6:08P PST - Mt. Shasta, California. Elevation 14,162 ft. 4 hours to San Francisco and a good night sleep! 4619.0 miles down, about 6000 to go. "I am the king of all i see, my kingdom for a [smartbeetle]". Thanks Michael.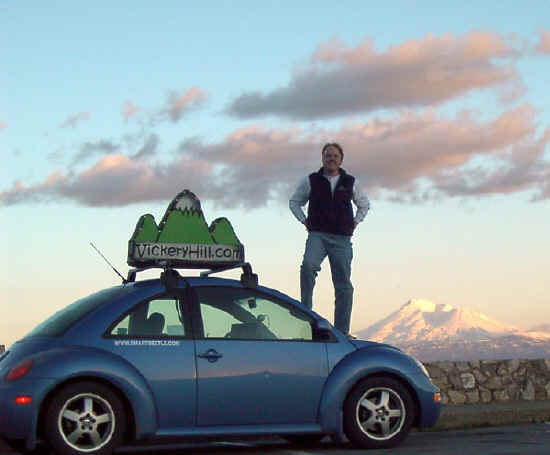 11:49P PST - Downtown San Francisco. Yeehaw...home away from home. If memory serves, this will be my 30th trip to SF.  Driving down Market Street, heads turn and people smile....especially in the Castro. this is a familiar drive. southwest on Market, bank right up 17th Street just past Mars and before Saturn. Tom and his roommate are laughing in the bay window. that's him check out the gig.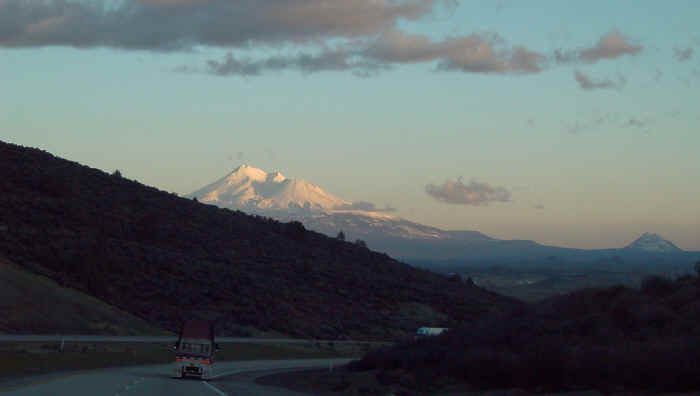 We meet Alyson at Molotov's for a 'bracer'. Too bad Kristen wasn't around, it was just her kind.  I delivered a few postcards and then DiGiovanni of NETC fame walked by with her friend. she was shocked to see me and even more shocked when i pointed to the SmartBeetle lit up like Christmas on lower Haight.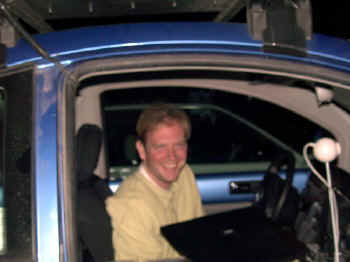 As we pulled away from the curb, someone from within a crowd (of course, no guts) through a can and hit the Mountains. I have 3 things to say:
1) it doesn't take an arm like Nolan Ryan to hit an almost stationary 39" x 24" neon-like sign on Haight Street at midnight.
2) i wonder if you could muster that kind of raw courage all alone in a dark alley when facing the menacing jaws of the SmartBeetle.
3) what would you think if i threw beer bottles at your favorite journal entry or prized Jamaican one-hitter?
i'm not mad - just disappointed. In you.
If you need to impress your friends, pick up a hammer or a pen, you can do much better than that.
Good night. Sleep tight.