Day 16: First morning in Hawai'i
March 21, 2000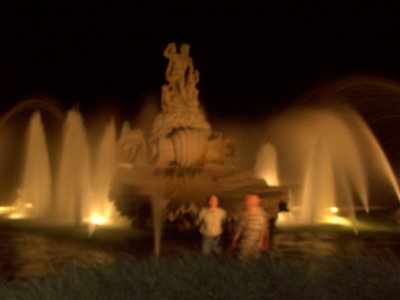 Previous night - As we pulled into Princeville Resort where my best friend Dave is living we noticed an inviting fountain that looked just right for the swimming. What better place to baptize me on the island - he swore it was 'ankle deep', i set up the camera timer and we proceeded to get soaked up to mid-thigh.
9:00A HST - Up and at 'em in Hawaii. Dave heads off to work at the Gourmet and i get up to do some 'real' work (in Hawaii) on the laptop. I am feeling feel a bit of the DT's knowing me and the SmartBeetle are 2800 miles apart. i hope she understands the boat would have been long and expensive....maybe next year.
11:00A HST - Note to Self (from Dave): Apparently the Hurricane a few years back (El Nino caused?) blew through here pretty hard and one of the noticeable details was the complete annihilation of the Garden Isle's chicken coops. Ever since then, the island has been inhabited by true-to-form "Free Range Chickens". I am to watch out for them while driving.......stinking chickens.
12:15P HST - Hawaii'n automotive economy lesson: Due to expensive transportation costs and low post-college wages at tourist restaurants by free-wheeling friends, people here buy a vehicle to get to work for as little as possible and then proceed to beat on it until it is time for them to move on. they then sell said vehicle for as much as humanly possible to the next person. Broken headlights, missing ignition barrels that have to be started with a screwdriver, ripped seats and power windows that are stuck 2 inches open are common here - and all "features" on Dave & Friend's 1988 Mazda 323.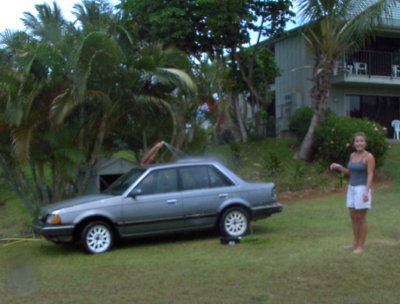 Since they are all moving back to Alaska for the summer, the car is For Sale and a man named Tom is headed over to check it out today.  One special selling point - the White Ralley Wheels - crucial for blending in with the local scene.
we drove around the resort to a community hose Da Kine and put the scrubs on the beater. I was given glass-detail. Check out that sparkling glass!  Oh - and yes, those are plastic tape covered headlights - makes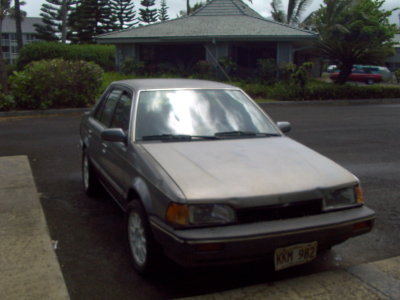 for interesting nighttime island cruising. And notice the Non-Gloss paint job on the hood. This thing is worth $800 - easy!
The roommates were pretty psyched to check their Hotmail - not a lot of technology in Kauai.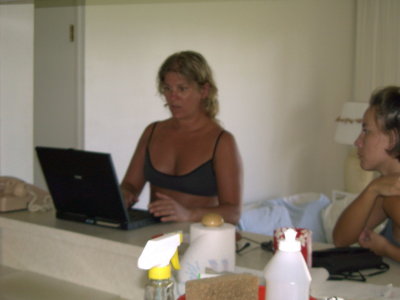 Apparently, there is another species of animal whose homes were devastated by the hurricanes - the Stinky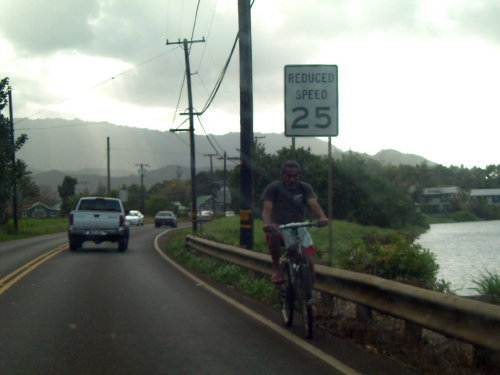 Hippies! I have to admit, i don't like them and their free-living, shell picking, Tic Tac's bumming attitudes. They walk the streets and live in VW "vans down by the river". God's Honest truth.
3:10P - Alison & I picked up Dave and rolled into action around 4pm. Happy Hour at the Gourmet made for some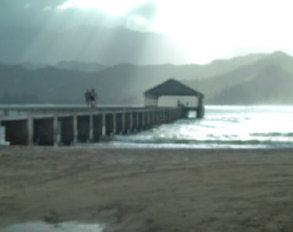 cheap Artichoke Dip, French Fries and a drink special. Headed back home for a quick nap and then drove Alison to the Sushi & Blues bar for her night shift.
We took a slow drive past the beach and pier of Hanalei bay and watched clouds pushed by the Trade Winds roll through the mountains.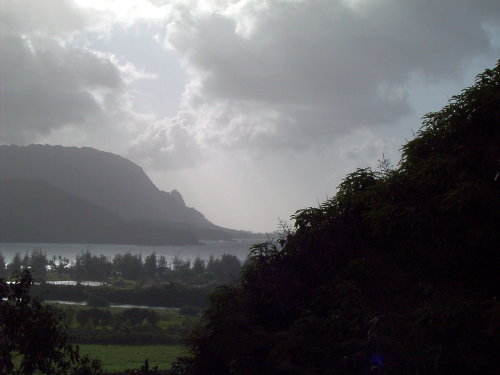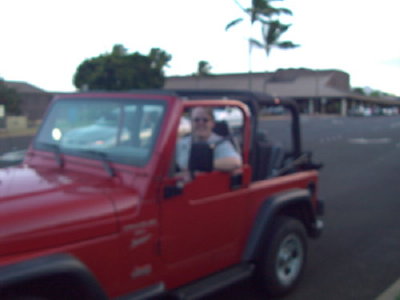 5:15P - 40 minute drive south to the Lihue Airport to pick up the Hawai'in Island Interim SmartBeetle (HIISB) - a 1998 Jeep Wrangler - Sorry boys, they gave away the last blue one a half hour previous.
The dang camera is taking blurry photos on too many occasions, or maybe Veitengruber has a case of the Houle's - had to update my camera's BIOS from Toshiba's web site and i'm working on getting the fuzz out of the pictures. Tomorrow we go snorkeling and then swimming in the "Queen's Bath" - all in the HIISB! Dave Matthews' Crash is the cassette tape of choice....
Music of the day
Cassette tape (in the replacement SmartBeetle Jeep Wrangler stereo) of Dave Matthews Band: Crash