Day 15: By the time i get to Honolulu
March 20, 2000
8:00A PST - Thousand Oaks (Dave & Siegi). Woke up by Siegi at 6:00A to say goodbye as she went out, then back to sleep. woke up without the blasted analog alarm clock at 8. I immediately started updating the web with my unfinished photos from the day before - i especially enjoyed the midnight stop on the highway.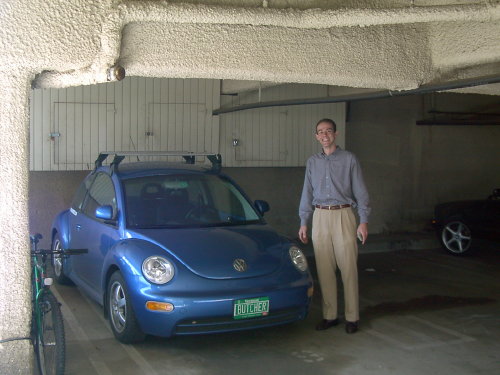 10:40A PST - I am late late late. it takes about 40 minutes to get to Danny's in West Los Angeles and my flight is at 12:55P. Passed 2 Silver, one Green and one White Beetle on the way south. For a 29 miles drive, this is an beetle-abundance.
11:50A PST - The SmartBeetle is parked safely in a garage in Santa Monica. She is fueled and ready for the next leg of her journey on Friday night (Vegas baby, Vegas!). I have packed all i could into a duffel and a backpack, including the GPS, Cell Phone, Laptop, clothes and postcards. I planned on bringing a few vests, but in my mad rush to make my flight, i forgot them.
Danny Greenwald met me at his apartment and we pulled the sign off the roof and carried it into his living room. It will rest (lit up at night i hope!) there for the week until i return to LA on Friday night. My tardiness created issues with the cab company, so Danny left work for lunch and offered he and his '87 Camry as a means to ferry me to LAX. Not a bad ride and my last chance of hearing tunes of choice on a decent stereo before my return - he, of course, has REM playing. Good call. I get dropped off with 45 minutes to spare and wave goodbyes.
Oh, I just realized i forgot something else - my plane tickets. One set of tickets and i manage to forget them - they are in my Buber-kit in the cabinet in the back seat of the car. I can imagine them snickering right now: "ha, the singing fool left us in this hot tupperware box for 14 days and promptly forgot about us the only time it mattered - serves him right."
Nice job Butcher.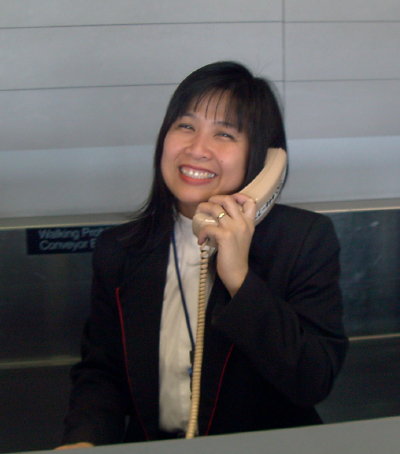 12:47P PST - Lynn at the Northwest counter has been extremely gracious considering the pressure i have put her under. She had 20 minutes to charge and issue me a replacement ticket ($75) and get me on my way to gate 28. The approval people on the phone kept her on hold for at least 10 minutes while we talked about my foolishness and my trip so far.
She is still on hold - I've missed the 12:55P to Honolulu. There is a 3:40P, but it gets in at 7:28P and the last connector off the island to Kauai leaves at 8:05P, a close call in any book. Lynn recommends i NOT check my bags, puts me in a front row aisle and smiles back "you're gonna have to run". Story of my life - 20% rule is in full effect.
Slipped her a postcard and thanked her for her patience....she even dropped a free drink/movie/500mile coupon in my ticket folder!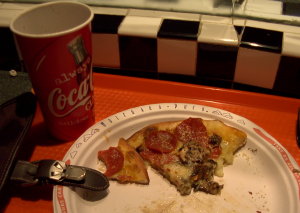 Up at Wolfgang Puck's eating a Pepperoni & Mushroom Pizza for lunch. The service sucked, but the lunch hits the spot. I even splurged with a large Mr.Pibb - rolling the dice on the caffeine intake. $10.66 - rip off.
Aside: Called to confirm my show tickets and hotel for Vegas - all set for next weekend!
2:00P PST - waiting on flight 933..................
3:30P PST - last minute dump of this morning's exciting activities...and i almost missed my 2nd flight - something has to be done about telephone/modem speed.
5:50P HST? - sitting in seat 10B (thanks again Lynn), i meet Jerry Anderson and have had some great conversation about his son in Hawaii, past employment an loves and the fact that he once worked across the street from my dad's autocycle factory in Owosso, Michigan and even met my dad once. Excellent. 
The stewards/attendants hand out a "Plants and Animals Declaration Form" that is mandatory to enter the state even for a few hours. It is meant to "keep Hawaii safe and beautiful by keeping out harmful pests and diseases". Maybe every state should have one of these and add 'bad karma' and 'rude disposition' to the list.
6:53P HST - we land 35 minutes head of time and i will have no problem getting my short hop flight to Kauai - once more big smiling 'thank you' for Lynn in LAX.
As we bank down to the west over O'ahu, i am confronted with a sharp awareness of the vast ocean we just crossed halfway over. I did not worry for my safety nor was there anyone to warn me of any danger, but i still know, in the event of aircraft trouble, there was nowhere to put this bird down. I wonder what the ancient Polynesian sailors though about when they set out on a 1,000 mile voyage across the Pacific without instruments or maps. Did they all know how difficult the trip would be - or did they trust their navigator implicitly as i did my pilot?
After touchdown, i checked in for my connecting flight, removed my vest for the first time during the day in 15 days, and called Veitengruber. His words were "relax". i don't think it was Hawai'in for anything, and i also felt that his words were a bit late...i grinned and walked onto the Hawaiin Air DC9-series 50 for Miles 8210 - 8270?
Some silly offlanders had their hyperactive boy tied up on a rope.
Aloha pushes off the tongue with the easiest of breaths.
Music of the day
Hand-made MP3 CD from Chris Monson remains in the disc changer

Def Leppard: Photograph
No Doubt
Guns 'n' Roses
U2: Sweetest Thing