Day 14: An LAStory - Pacific Coast Highway, on to Los Angeles
March 19, 2000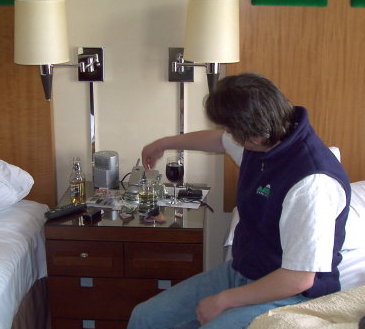 8:00A PST - little NASCAR watching on TNN. I notice that the drivers refer to their vehicles by proper name like i do (or vice versa).
10:00A PST - 2 hours of laying in bed is enough. Dave and I pack up the room, call Valet to warm up the SmartBeetle and get us on the road. Shaving in the bathroom, the horror of the photograph next to the sink, sinks in - Dice superimposed over an image of Hiroshima, post-US welcome committee.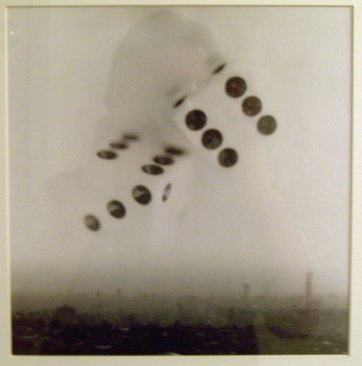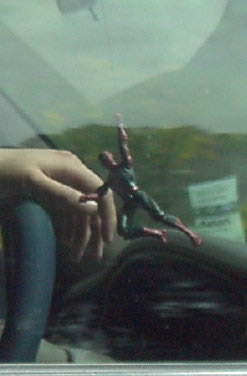 Rocky Mountain Butcher Time - Late as usual and probably subconsciously not wanting to leave this lovely city. Caught a few glances leaving and had a Spidey Spotting.
Houle coins a new feature: Bugs through the Windshield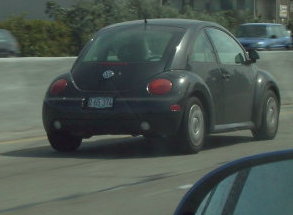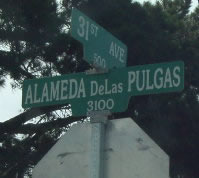 But the Pacific Coast Highway calls....pulled into Stef Sheedlo's house on the "Avenue of the Fleas" and got the bucket out to give the SmartBeetle a wash.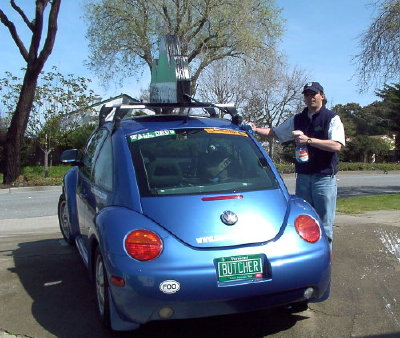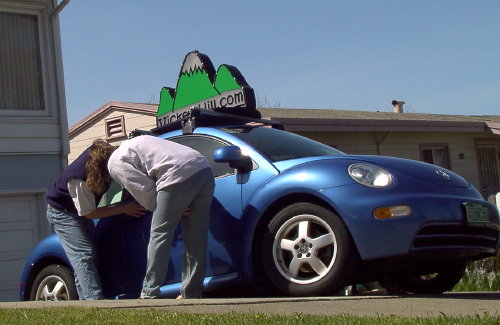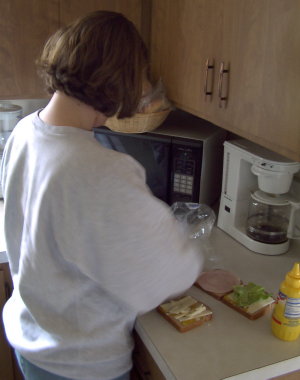 She made us excellent Turkey sammiches (with lettuce to boot!) and i got a travel mug of milk and a decent American dessert of Girl Scout cookies. They inspected some minor blemishes of labelling on the SmartBeetle before we fired her up again for the trip south down the PCH to Los Angeles.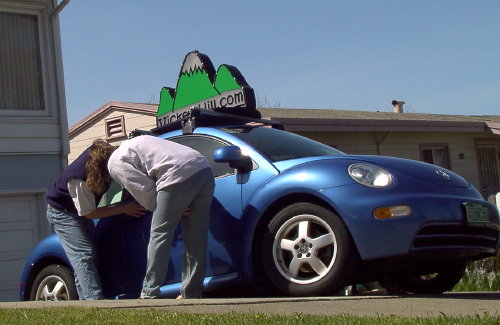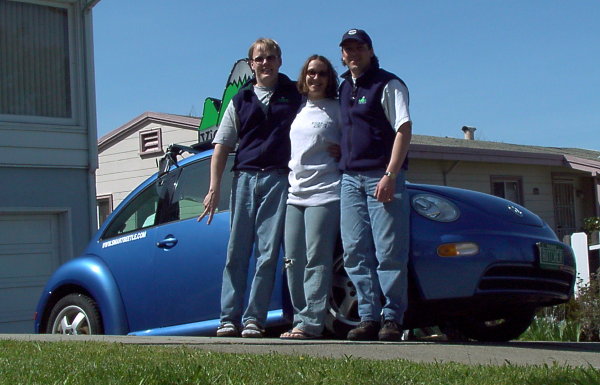 Sunday drivers in San Mateo while i stopped to dump a bit of text to the web page.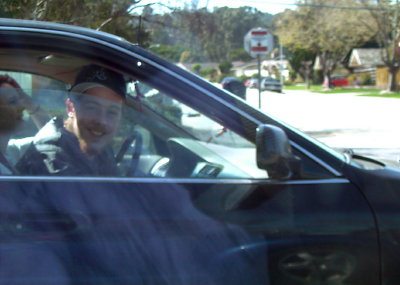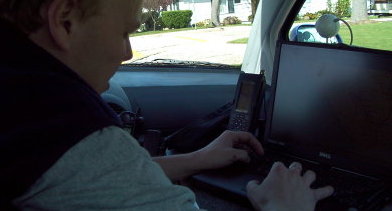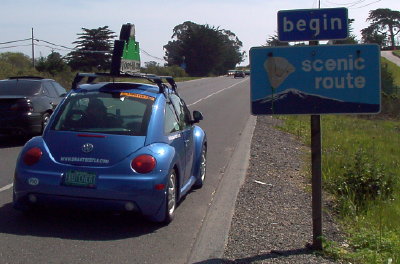 1:39P PST
- Half Moon Bay. Fill up with Petrol. Gas has reached a steady $2.00 a gallon. Isn't that grand, truckers out of work and the government is most likely working on giving our friends in OPEC aircraft worth millions, grain at below cost or missiles with which to blow each other up with. Lenten renewal - stop ranting.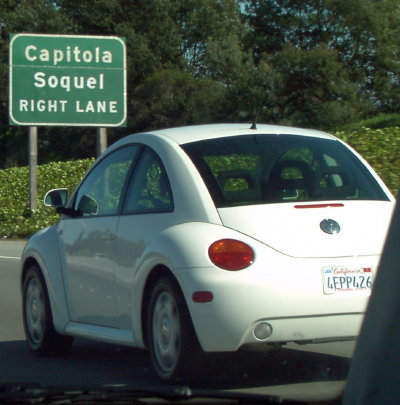 We arrived at the 'scenic' section of Route1 and begin the trek southward
3:03P PST - Campbell called from Santa Cruz, which we just passed 5 miles back Slight Detour on Route 1 back north.
More bugs through the windshield
Stopped at a light by what may have been our first confirmed venture capitalist - he asked about the car and the journey. forgot to hand him a postcard!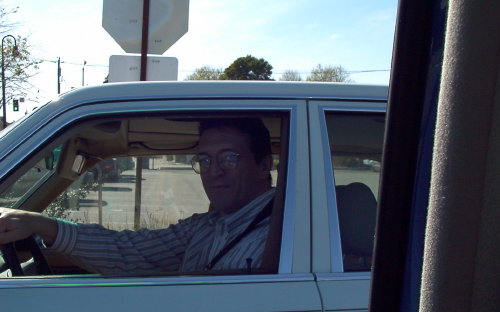 Santa Cruz was a nice rest area. We walked along the boardwalk looking for a bathroom and an ice cream stand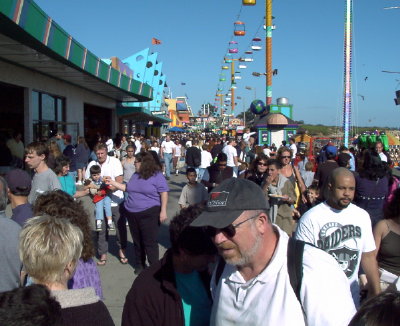 We all enjoyed melting ice cream cones. Amanda, Dave & I jumped in line to go on a "big person" ride - The  Chaos - while Jack and Campbell tried some splash gun "littler person" ride?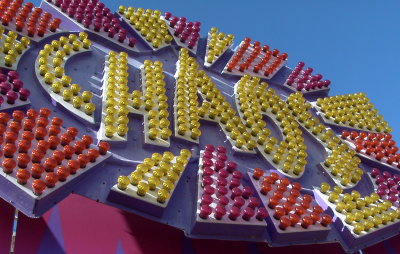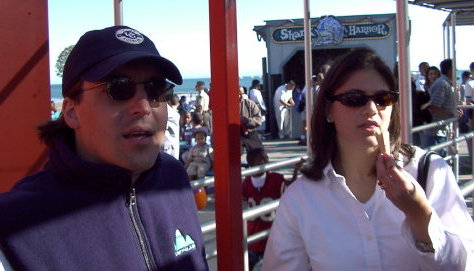 thankfully, just  inside the compartment we were forewarned of the danger of having an appendage severed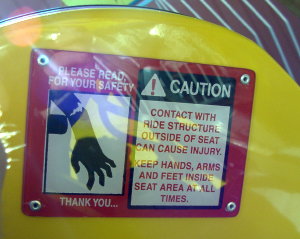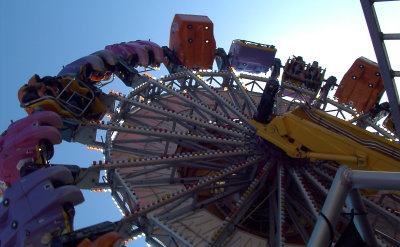 Check out our ride on 'Chaos'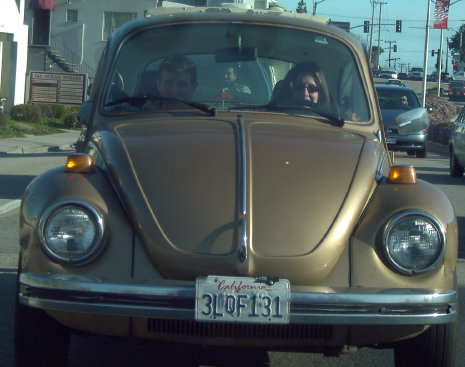 4:51P PST - more Bugs through the Windshield and confirmed Fahrvegnugen.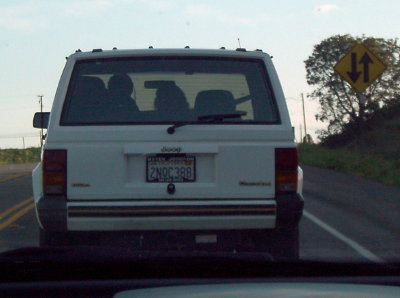 5:15P PST - we ran into a Ferrari whining down the PCH. License plate - California SICILAN. Interesting. He was dying to wind the thing out, but the traffic and construction kept him from disappearing. His passenger was definitely more interested in seeing the SmartBeetle..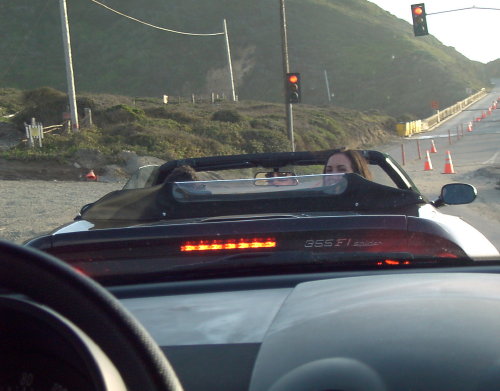 Dave captured his raptured acceleration on video from the Navigator's Seat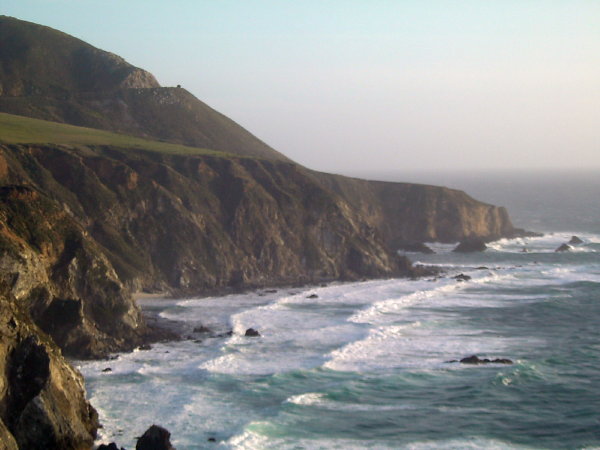 5:30P PST - After completely ignoring a 15 foot wide sign saying "Road Closed to ALL through Traffic - NO DETOUR on Route 1", we continued south and wandered into the Henry Miller Library and Museum. Surrounded by giant Redwoods lies a small fenced in grassy outdoor display of sculpture and material related to Henry Miller. They reassured us that the giant white sign with yellow flashers was in fact correct - there were two road covering rock slides just a few miles south and no roads that would lead us back east to 101. We would have to retrace our steps 50 miles north.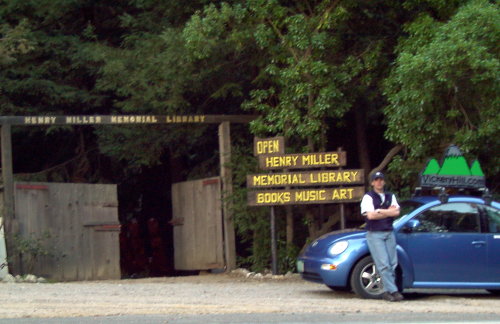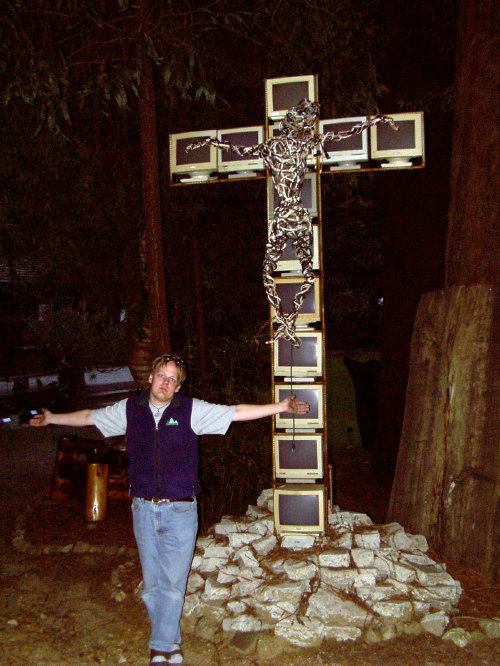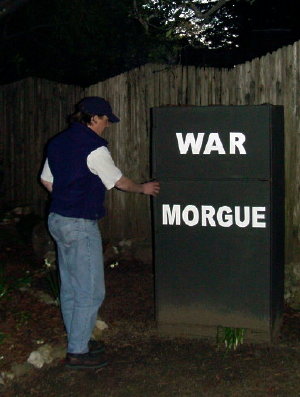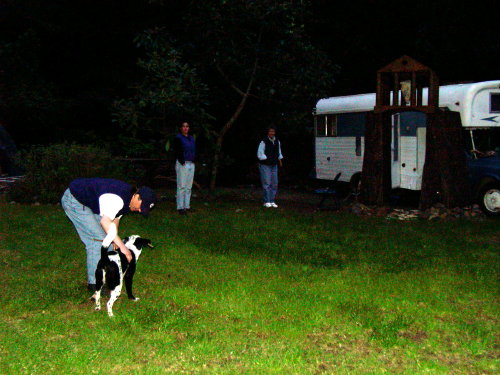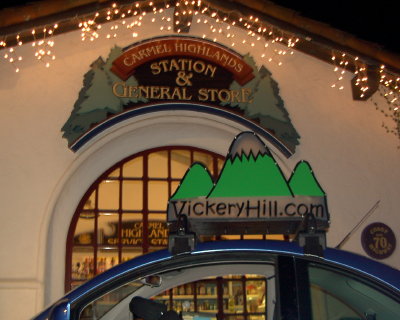 7:04P PST - On our way back north, Goose murmered 'food', so we stopped at the affluent Carmel Highlands gas station and country store for burritos and a nitrite-cicle.
11:45P PST - Just northwest of LA, i pull over to take a tribute shot to Jamie Sommers and her home town.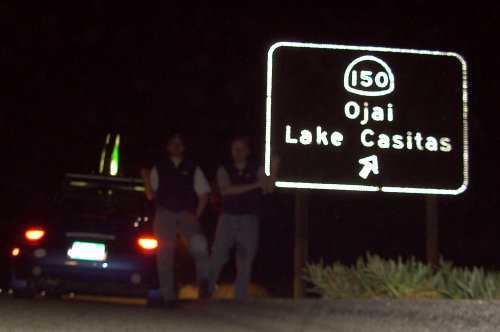 12:11A PST - we make it to Thousand Oaks, outside of LA, 27 minutes early according to the GPS/Map combination. Siegi is duly impressed with the SmartBeetle...another vest delivered.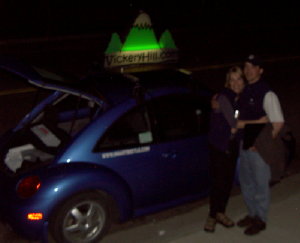 Celebratory Oil Can and bed time for bonzo. tomorrow i fly to Hawaii for some R&R.
Music of the day
XTC: Compilation
REM:Monster
Pink Floyd: The Wall
Counting Crows: Recovering the Satellites
Beatles: Abbey Road (a road staple)