Day 18: Thursday in Hawai'i (day 4)
March 23, 2000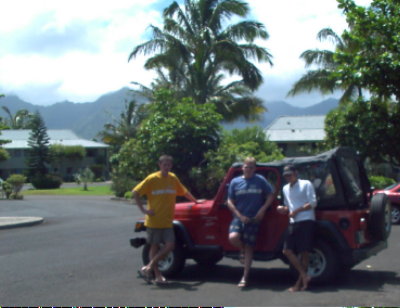 We swore this day would start nice and early, and ended up out on the patio late late late talking of Hawaiin history and debating (no whisper yelling) about whether or not the US should have interferred in this little island paradise. Anyway - maybe we'll get into it tonight again!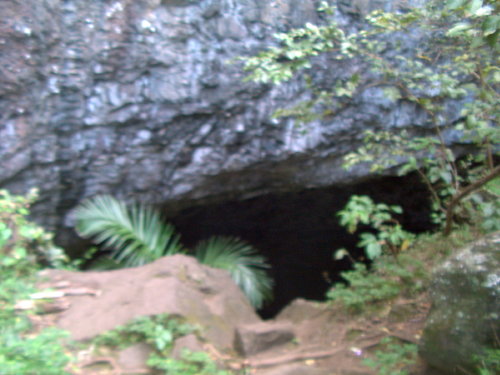 11:00A - Whoa nellie!  A drive to the Post Office to pick up general delivery mail turned into a slice of Pizza from Pizza from Jo and then exploring out west into a cave known as the Blue Room. Parked the Jeep, locked up the digital equipment and started the 5 minute climb up the mountain.  Around a corner and through some brush is a shear rock wall probably 400 feet high and worn into the front is a cave opening nearly 150 feet wide.
Once over the lip, a steep slide down dust and rocks, and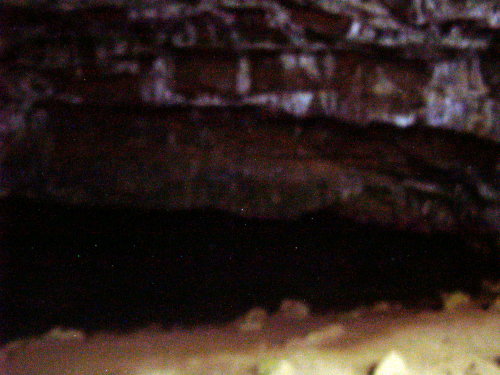 Dave, Alison, Lance & I are standing at the edge of a giant crystal clear turquoise pool of fresh water. Strip down, and slowly edge in - the water is probably 60 F degrees. In front of us the rock ceiling juts down to about 1 foot above the water - for 100 feet in or so. We waded in with our chins under water.... and started looking for the hidden entrance to the next cavern - the blue room - that is supposedly completely under water.
We spent nearly an hour looking and eventually gave up. They climbed up the bank to dry off. I put myself into a back float, all but my face front under water and just listened to the water and moved around under the cathedral of rock until i rested under the low rock ceiling. I can't do it justice, but hearing nothing, feeling the water all around and touching the rock with my hand - i imagined i was somewhere else, where no one else was. And i grinned at the muted silence.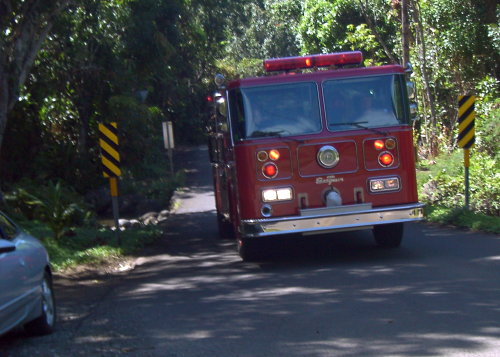 Dave & I dropped Lance off at work and then Alison off down the road. on the way, we pulled over to stop for a firetruckin the HIISB.
so it was out to the second wonder of the bay of the day - Kauai's north shore and the Queen's Bath....a rock formation that creates a giant hot-tub-like rock pool of water that waves crash over and foam up.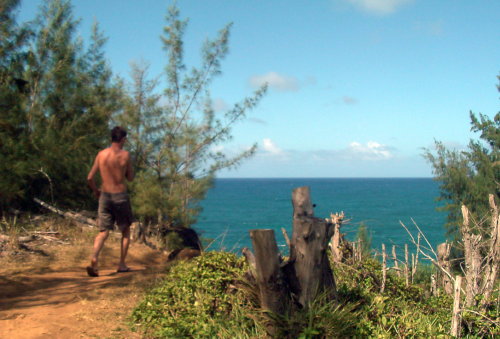 man this place is just awesome to sit and stare at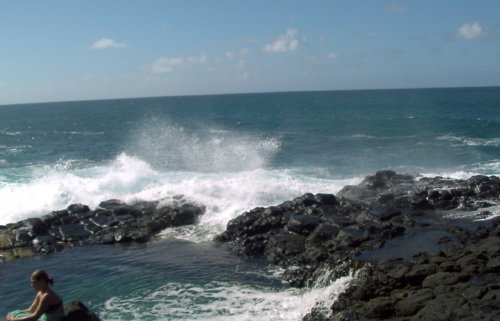 or take pictures of people taking pictures of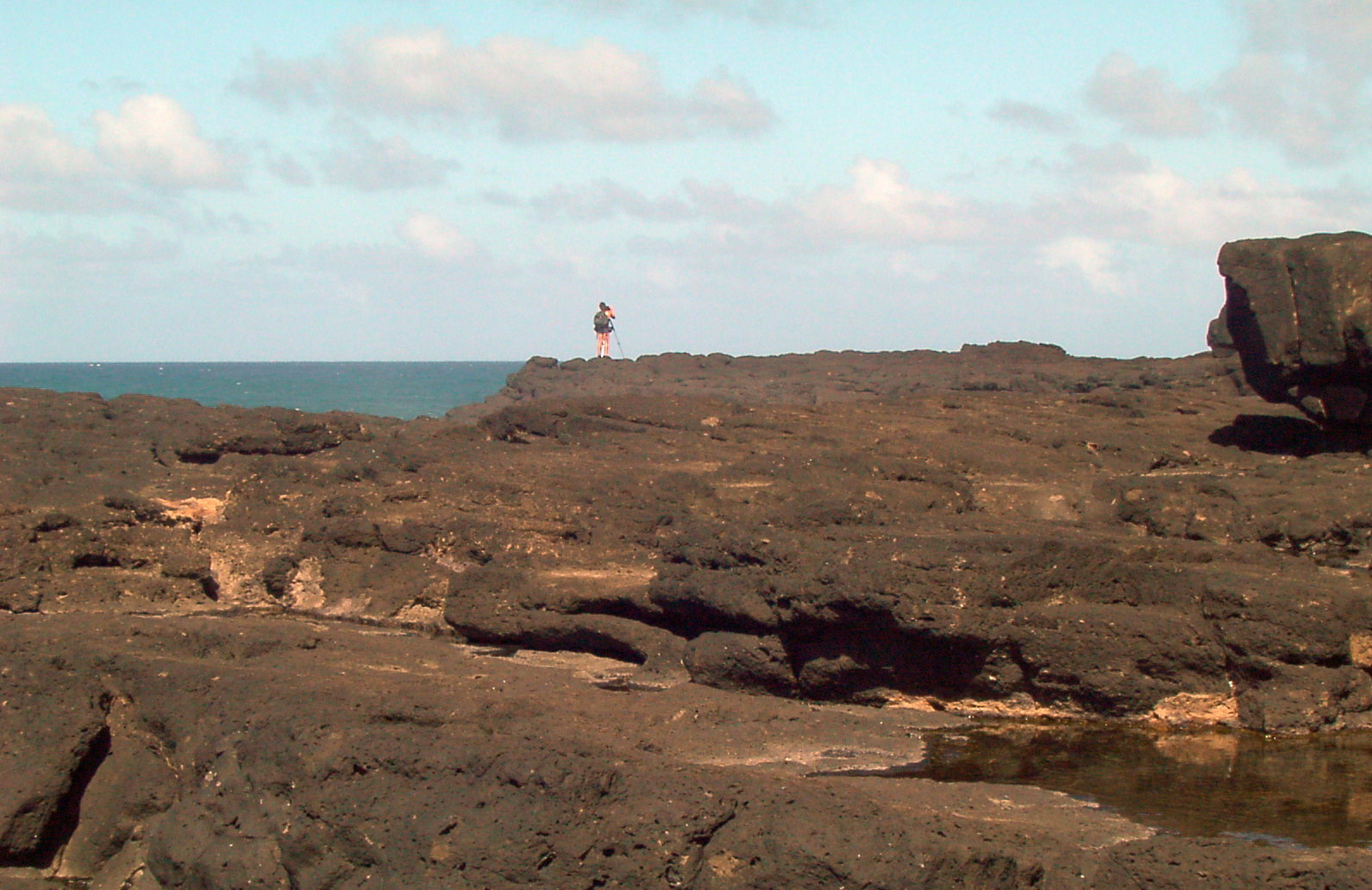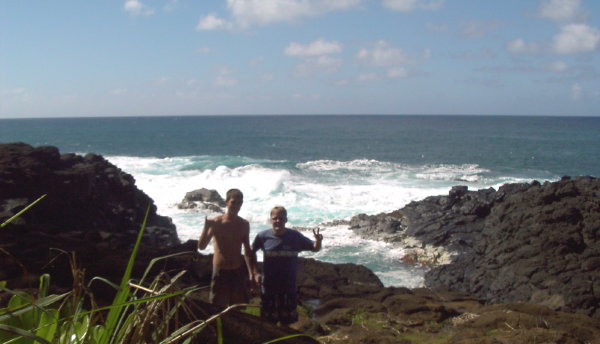 With everyone but me at "work", I began the winding bumpy drive out to Mount Makeena again to check out the sunset alone - and right into a rain storm. as i pulled out my camera to take a movie of the drive, the batteries died. So i turned around and turned a 20 minute winding ride into a Dave Matthews sing-a-long
7:15P - Pulled into the resort, talked with Jo about lesbian relationships and laughing about how her goofy stories of life and love were just the same as mine, we have a long way to go in society before we start realizing that we're all in this 'life' alone, yet all in this together.

Checked the DHL web page to track my package.  Just another example of Customer Service going down the tubes - the vests that Danny shipped over here on Tuesday from LA for my Hawai'in roommates went to alaska instead of Hawaii - simple mistake....isn't their motto - "We run the tightest ship in the shipping business"? My adoption of the motto "we suck less" becomes more and more enticing every day.
9308404346 - Detailed Report
Date
Time
Location Service Area
Checkpoint Details
March 22, 2000
 

17:55

 
Hawthorne, CA - USA
 
Shipment picked up
March 22, 2000
 

19:13

 
Hawthorne, CA - USA
 
Departing origin
March 23, 2000
 

14:35

 
Fairbanks, AK - USA
 
Scheduled for delivery
March 23, 2000
 

14:35

 
Fairbanks, AK - USA
 
Arrived at DHL facility
March 23, 2000
 

14:59

 
Fairbanks, AK - USA
 
Shipment arrived at wrong facility. Sent to correct destination
March 23, 2000
 

17:02

 
Fairbanks, AK - USA
 
Departing origin
Oh well - some computer guy just beat Regis on the Millionaire show - time for Sushi.
Being around the service profession for years, i find myself focusing o my "roommates'" jobs of waiter/waitressing. I sit in the corner of bar Sushi & Blues 3 nights straight for an hour waiting for them to close out.  Customers are over-stressed and demanding of beyond-the-extreme service with a smile. Fellow workers are high-strung & pissed off at each other. And a lowly 11% tip spikes the anger meter and laughter turns to growls.
I wonder if the term "good economy" can be mathematically equated to "bad service"?!? Is there a relation similar to the "people are worried banks might fail, therefore people start withdrawing their money, therefore banks fail."? Maybe it could be termed the John Galt Phenomenon. I wonder if it can corrected for or adjusted?
Bedtime at 3am. 
5AM - I am also learning quite a bit about lesbian relationships.
A 2 Week Vacation ... becomes 30 years
As in Traverse City, South Dakota and San Francisco, the 'devil' is putting on the full court march madness press of temptation.

This place and the people here really get you thinking - "If i could put away n dollars and make p% interest, i could live in condo q for x decades and still have y dollars per month to enjoy myself.
Could i live without working?
Would i end up picking jewelry shells off the beach for $60 a film-case?
Would the hippies over-the-top stink and easy going-ness drive me banana's?
Would i eat so many bananas i would turn yellow?"
My god, what am i thinking.
I heard a story at the sushi bar last night about a typical local - "i came here for a two week vacation thirty years ago". 
Shake it off Butcher, shake it off!