Day 19: Leaving Hawai'i with a resounding (horn) blast
March 24, 2000
4:50A - Good Morning! HOOOOOOOoooooooooooooonk!
Today began at 4:50A with Jo shaking me out of the brownest of the brown dreams. She was whispering but i couldn't hear her over the constant blaring sound coming from outside.  Something in my brain told me it was a tornado or hurricane emergency and i snapped up out of bed. Without eyeballs (no glasses or contacts), i had to get close to her blurry image as she said for probably the 5th time "The Jeep horn is on!" I didn't understand how or why or what she was talking about.
Outside the window, my Interim SmartBeetle was sounding off it's tropical yawp! I stumbled outside barefoot and blind and found a pair of legs sticking out of the driver's side door.
"Some guy is trying to hotwire my Jeep" lept forward in my skull. "Grab him!"
He popped up just before i could attack and yelled over the blare - "the horn's stuck. i live over there."
no kidding. even at 5 in the morning, i could tell that the scream in the dark pushing into my ears and across the lot and through the resort and into every 70 year old couple's open window was the damn horn.
he had already pulled off the glove box and was pointing at the fuse panel that lie behind it. "I can't get them to come out".  For some odd drowsy reason, i jumped in the driver's seat and started the engine. It didn't help. I shut it off.  Maybe i was thinking - drive it out somewhere remote so no one can hear it and then fix it?
he jumped out of the passenger side and i got down on the ground to look inside. the panel was white, the fuses were the newer computer-chip-looking type and they were flush against the firewall. The only tool i had was the iginition key, so i started prying them out one by one. My fellow amateur electrician/late-night-mechanic was flipping furiously through the manual yelling - "i think it's number 12 or 13".  I had already cut all interior lights with fuse 1 or 2, so in the dark of night, i couldn't help ask "which the hell one is 12 or 13?". He shrugged. So i contined my tearing....3 rows of 6 or 7 fuses each and which one finally shut it off? Second from the last one. Fuses all over the floor - i looked up at him and said thanks, sorry and goodnight in that order. he walked home and i went back to the couch. Before i fell asleep, i distinctly remember a whispered curse go through my lips - "crappy american cars".  I can't wait to get back into the SmartBeetle!
12 noon - i woke up laughing out loud. Last night's festivities of sushi, karaoke, floor stomping Hawai'in madness was a helluva way to end the week. Dave started out the night with "Devil went down to Georgia", James Taylor's "Steamroller", "Bad Bad Leroy Brown" and he and Alison finished off the night and closed the bar with a decent "Rocky Top". Note-to-self: Dutch men cannot sing Meatloaf to save their lives. next time get up there and help.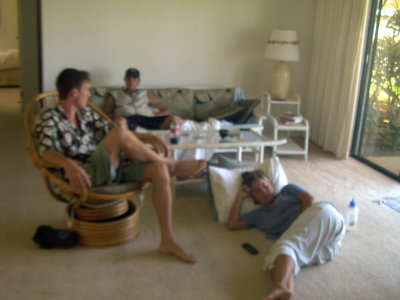 1:13P - Dave brings back lunch from the Foodlandia and the landlord stops by for a bit of chewing out. Apparently there are quite a few older couples living here in the resort and Mrs. So-and-so was awake the whole night. He slides through the door with "When are you guys moving out? You know i do hold your security deposit still." We didn't say anything beyond "Sorry", but what the heck are we going to do if the junky car horn gets stuck by itself in the middle of the night? shoot it?
Leaving Paradise behind and i get to see a giant waterfall out of the clouds.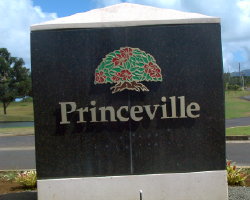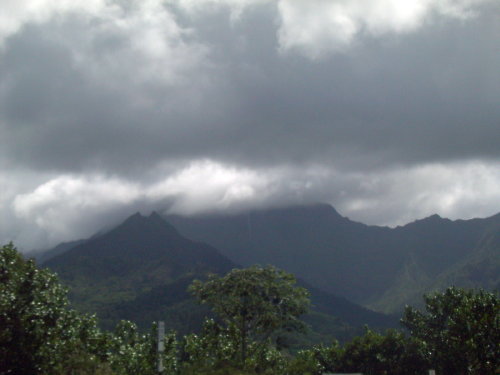 2:35P - Drop Lance off by the beach path for his stroll home to the van and head southeast towards Lihue (about 40 miles). 10 minutes into the trip and on the phone with Danny in LA, Dave calls on the mobile. I left my Credit Card, Driver's License and belt at the condo. Well, i can't hardly continue my journey without my belt, so i whip her around on a dime and head back to Princeville. I am definitely in trouble with the airlines again. Walk into the living room to Alison & Dave grinning like Cheshires....20% rule is on again!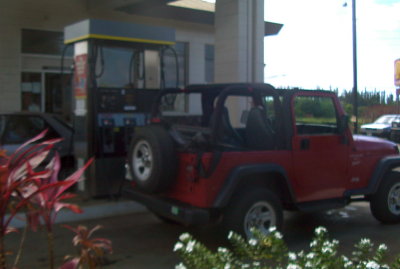 Headed back AGAIN towards the airport behind 7 or 8 slow moving cars. Nearing Banana Joe's Farm Stand, the Jeep sputters - what now? Check the gauges...out of gas. i know - i can barely believe it myself. Again, my hands automatically begin shaking the steering wheel, milking it for all she's worth. My right hand reaches for the cell phone - Dave & Alison will get a kick out of this. They let me know i am only a mile from the nearest station - all week, we have been cruising around Kauai not even thinking about gas...and it finally caught up with me. Well i make it through without stalling, and put in almost $32 of gas. Man, something has got to be done with this OPEC crap.
On the way, i give the sleeping giant a big salute as i pass out of his domain and back to the Mainland. The sun popped out from behind a passing cloud, and i swear he winked at me - he knows i'll be back.
Passed through Kapa'a at about 1 mile an hour in traffic. Saw one of those, ah, Da Kine.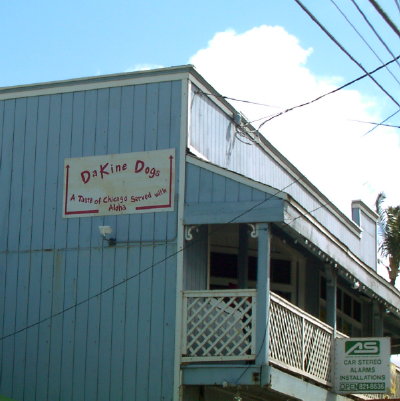 then i was ironically mooned...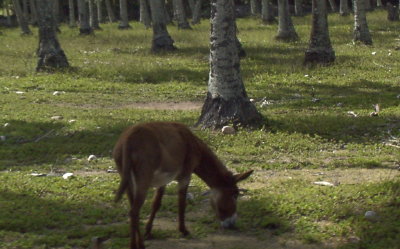 And saw what i hope are my last stinky hippies - and no, they didn't ask for a ride. I'm not trying to judge them, but please, the place is surrounded by water, take a bath.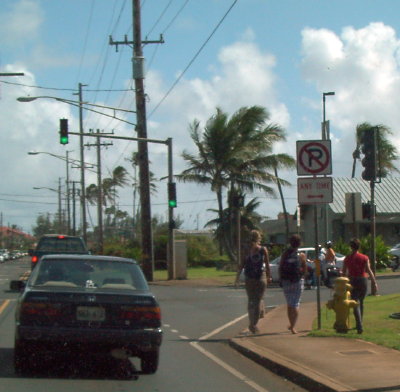 Made it to flight 548 to Honolulu which gets me in at 5:15P, just in time for the last flight to Los Angeles. Call Dave on the tarmac (love that word) and said Mahalo & Aloha.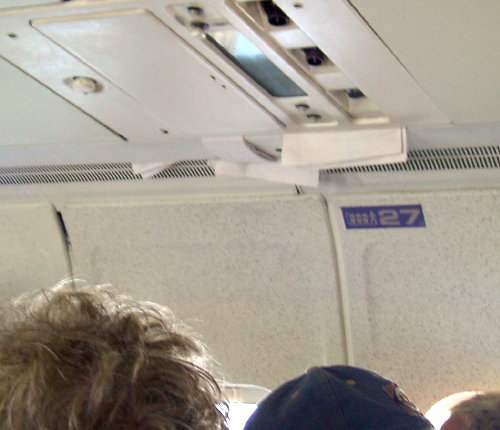 The plane is in serious crap shape - water leaking out of the seams, air conditioning fumes blowing above the windows and napkins holding her together. I am definitely emailing this to Hawai'in Airlines...it makes me feel quite safe to see paper used as a shim in the DC-9's skin. I wonder what they use in the mechanical system when something goes wrong - duct tape? 
Honolulu is the last stop - and man is it tempting me. Open the wallet. It's only $50 to return to Kauai. Don't leave...remember Vermont. Remember VickeryHill. It'll be warm there soon. You have a home to return to. It needs to be finished and has many memories to be lived. You have work to do in Vegas and the road to travel. There are more stories to be lived and heard and spoken. Breathe and walk forward.
ah.
Flight to LA will get me in at 1:11A PST. Greenwald graciously offered to pick me up at LAX. LA will be brief again - Vegas reservations call. Next time i take 80 days.
12:27P PST - back in Pacific Time Zone. I should be on the ground in 40 minutes. The cute family next to me has been apologizing for their 7 year old daughter ho has ben kicking me in her sleep. No problem....just thanks for not letting her cry or scream.
Change of plans. Screw Oklahoma and Arkansas. Tonight i load up new flight plans to the SmartBeetle. We are turning southwest after Vegas on Sunday and heading deep into the belly of Texas, through San Antonio and Houston - straight to New Orleans. Hoo Ha!
2:36A PST - West Los Angeles. Here's a good one - MCIWorldcom cancelled my calling card because of the excessive amount of calls in multiple states - go figure, i'm travelling and i am using a calling card. They don't open until 5am tomorrow...the customer service office that is.
Who is John Galt?
Reflection:
Somewhen in the last few weeks, the question came up "What the heck is Dave doing living like he is - being a Waiter in Hawaii, Fishing in Alaska, never saving money or settling down?".
So i question back - "Don't most people live paycheck to paycheck?"
The answer was yes.
And i have just realized this week that most people i know, including Dave, are doing this.
He's just doing it with style - he's doing it while laughing.
And if we were to write a book, "it would be called Life and How to Live It"