Day 20: SmartBeetle in Vegas
March 25, 2000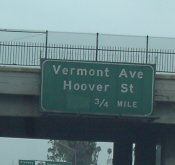 Nice 6 hour stay (with 2 hours sleep) at Greenwald's in Santa Monica. Left sharply at 8am after some nice customer service calls with MCI & Treasure Island.
So long LA, i barely knew ya. More memories of home as i turn east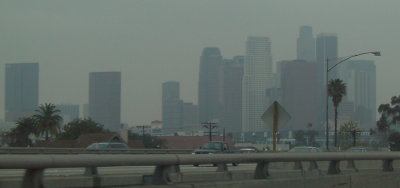 9:12APST - on the phone with Steggles, lining up some work in New York City. missed the turn in San Bernadino, backtrack 15 miles and $1.50 worth of gas. pay attention Butcher.
9:42A - Called DHL while driving - thought i could have some fun and try to get my money back from the package that still hasn't made it to Hawai'i 4 days later. Turns out MGM picked up the tab accidentally and so i just got their money back.
As i cruise across the desert, i can't help but wonder how all the Christians are doing with their Lenten promises. Especially those in San Francisco. I am keeping mine....no chains in sight.
And geez do they have a sense of humor (or delirium) out in the desert.
10:50A - Nearing 11am...4000 feet elevation. Death Valley....hot hot hot. The SmartBeetle is showing that the trip mileage total is just past 10,700 miles. The thought of Vegas must be getting people in a good mood, because people are smiling and waving and varying speed to check out the car.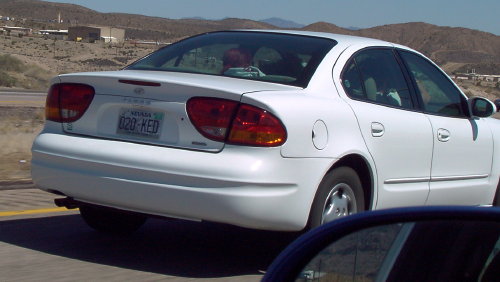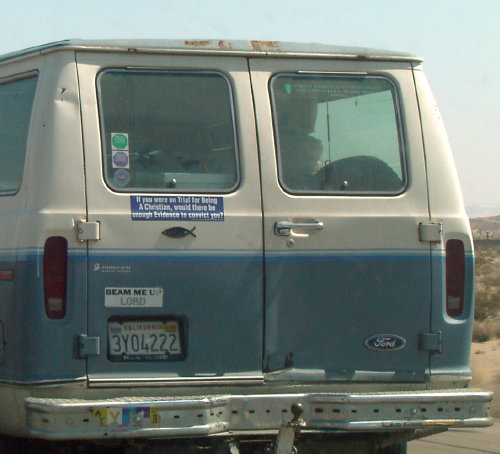 Another Bug Through the Windshield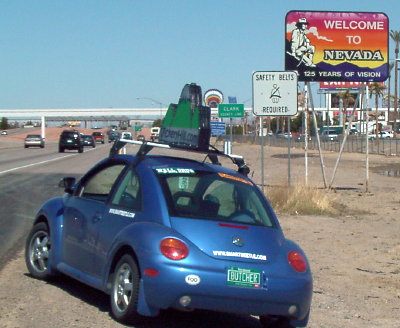 11:30A - Nevada Border - State# 20 on my 20th day of travel. Not bad, not bad. 15 or so states still left to tackle. This is what i love about Vegas. Not 40 feet over the border is a den of inequity. where man can submit to temptations of greed & gluttony without judgment. If i had any say in it - each state would have a "Little Nevada" placed conveniently on some island or secluded peninsula. An Oasis of Opulence for anyone with the means to drive an hour or two and throw life's meaningfulness by the wayside for a few days. It would have legal everything and no one would look frownfully on your actions, so long as no one else was injured. Cameras would not be allowed - so as not to incriminate the innocent - but you could pay a "licensed memory agent" to catch enough of the sin to remind you of Pan and the freedoms of your desires.
And the devil shows his ugly face in the form of 30 x 10 foot roadside billboards:
1st with the "thrilling adventure rides"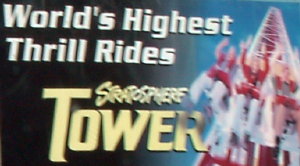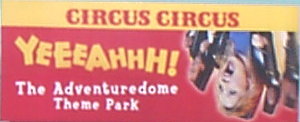 then with the cutesy theme ideas

and then the morally vague innuendos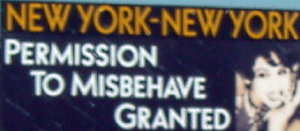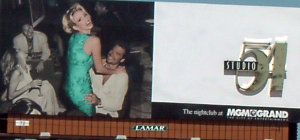 the cheesy entertainment


and Finally - the demand of emotional peakage from ME!

12:42P - VEGAS BABY, VEGAS!  I stall my way at the valet and people start asking questioning my purpose. This is a great time to hand out postcards. Initially worried that i had gotten soft on my speech while on the Garden Island, i quickly slipped right in to simple explanation of my trip and goals. "Yep, post it to the Internet." and "look it up tonight" come out without a struggle.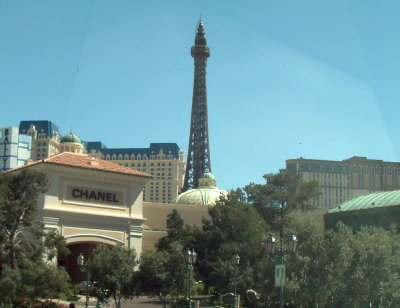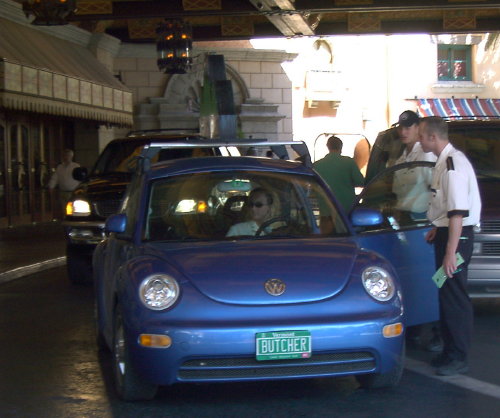 1:00PM - Treasure Island: the valet crew were scoping out the wheels. Apparently they had a Beetle with a giant Red Bull can advertisment on the hatch a while back and one of them drove it into the garage - ripped the sign and back end off of the CaffeineBeetle.
So, i whipped out the Dry Erase marker and scribbled "OVERSIZED" on the windshield for protection.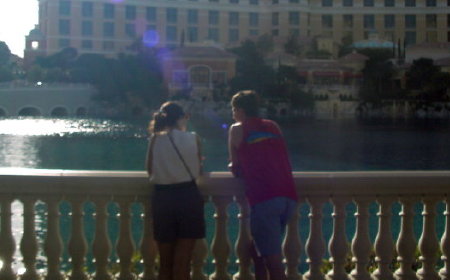 2:10P - Don & Ilse arrive - late flight they almost got pushed off of due to overbooking. How can an airline do this when plans have already been set? I would've been stuck with 3 tickets to a show and only one body. Damn Continental and the rest.
I wonder what would happen if they came to the grocery store and i was the manager. After an hour and a half of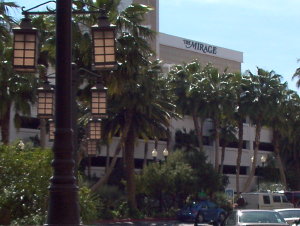 their monthly shopping, as they roll up to the counter - i stick out my hand in a sign of authority with "Sorry, we overbooked the store and you won't be able to purchase any of those products. No, you can't buy those vegetables for your children, but if you get in this other line, we are giving out $75 in food coupons for your next visit. Please hand over your cart and those cans of creamed corn. Thanks for your time."
Spent the afternoon walking down the strip with Ilse & Don. Even caught the fountain show on video at the Bellagio - Luck is a Lady was the song.
8:50P - Venetian: Appetizers baby! Antipasto salad with grilled unleavened bread, wood fired pizza and a manhattan. Then a slow Boddington's nitro can and a stroll back to Treasure Island to nap. Boy did i sleep...6:30p to 8:45p. one pillow under my head, one over my face. sleep hard!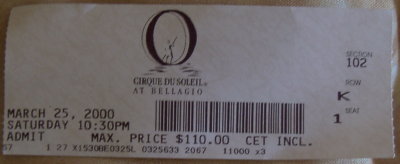 9:50P - Finally the moment arrives. the 3 of us are off to the Bellagio to see the Cirque de Soleil show "O". I have been driving for 20 days to get to this. 5 months ago, this exact show and subsequent late night of solo gambling brought on a fit of sleeplessness that in turn brought out the SmartBeetle concept from fuzzy dream to paper to physical reality. I wonder what the second show will bring. I wonder if my visitors will sit in awe............but we stop to get frappachino's at StarBucks and are late.  Here we go again - 20% rule tonight is the expenditure of 20% more energy than every other show-goer running to the theatre because we dallied. Brisk jog into the Box Office of the Bellagio just as the clowns started spinning umbrella's over unsuspecting audience members.
12:20A - the show was fantastically inspirational. to see mere humans do the acts of acrobatics and aquatics in a giant dream dance is one thing, but to imagine the architecture, orchestration and direction of such an event is, well, brilliant. in every sense of any use of the word.
The stroll across Las Vegas Boulevard was filled with laughter and "did you see", can you believe", "i didn't even notice", "i held my breath".
Exactly as i remembered it. I relate now in some special way to the poor human who loved a certain soda so much he coined "If i could buy the world a Coke". If only there was a theatre large enough to fit the people of the world. Maybe a giant space station, with all of us wearing special telescopic shades and sterephonic earpieces to peer down and listen into the open air theatre where an hour and forty-five minute showing of "O" would hopefully change their outlook on life, even if just for an hour or a day.
Ballast Update
Down to about 1000 postcards - more than i expected. 27 vests delivered, 21 left in the SmartBeetle. I have lost count, but i must be on quart 30 or 31 of H2O and about 14 boxes of Tic Tac's