Day 25: Houston, TX, selling eNi and on to New Orleans to (not) celebrate alone.
March 30, 2000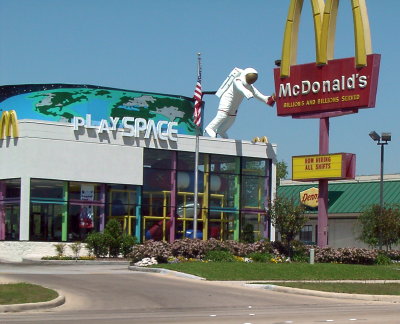 11:50P - Slept in in Houston. Whew - 9 hours worth! I am rejuvenated! Bring on the geekness! All i have to do is leave the light on as i check out and head over to the Johnson Space Center before driving to Lousiana
1:50P - I finished a phone call while in the Johnson Space Center parking lot. Seeing as i've already paid $3 for parking, i might as well commit to the other $13 and check out the Space Center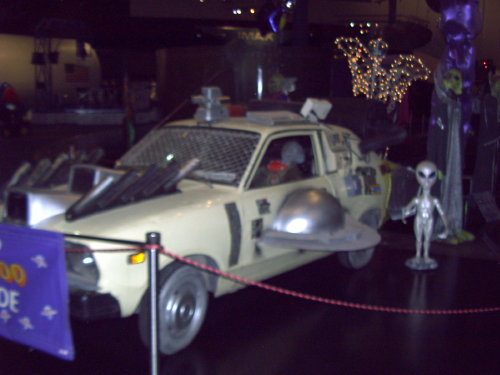 Well what do you know - the first exhibit in the door is about Roswell, NM and the UFO parade....I wonder - is this the level of seriousness we now treat our space program?
Plus, the SmartBeetle has this thing beat hands-down.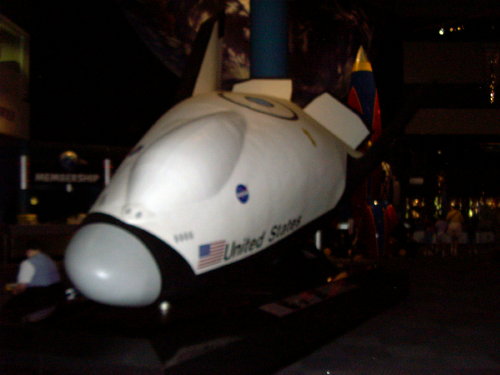 Once past the cheese at the front gate, there is a mock-up of the X38 (escape craft for the International Space Station)
An awesome hour long IMAX Movie called Destiny in Space....narrated of course by Spock! Quite a few shuttle missions and one satellite were actually equipped with IMAX camera's for this piece - impressive and worth the $16 i've paid to date.
Finished the movie and glanced at a clock - 3:30. This puts me in New Orleans at 8:00 or so...but you know - i have never been to Houston and won't probably be back soon, so i was off on the tram tour of the real Houston Control, which is located next to this facility. They actually take you into the real Mission Control and i watched a real practice run for the upcoming April 29th Shuttle Mission. Geek cool!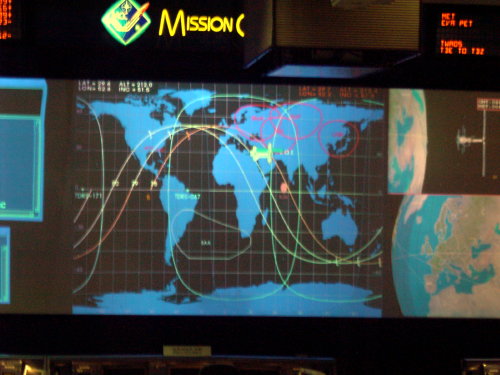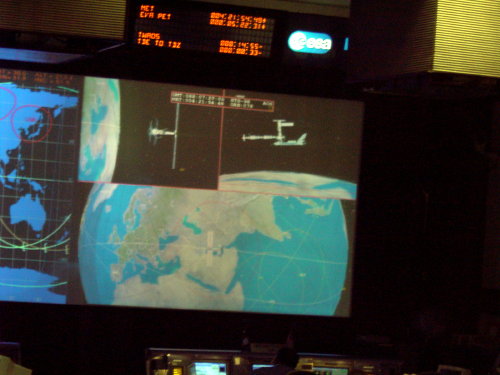 next stop was the practice assembly building which housed different modules for the space station, and robotic arms to practice the upcoming shuttle space station assembly missions. My pocket protector started to leak and the people next to me lent me some tape for my horn-rimmed glasses.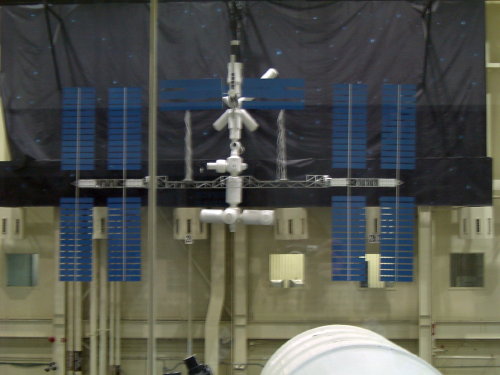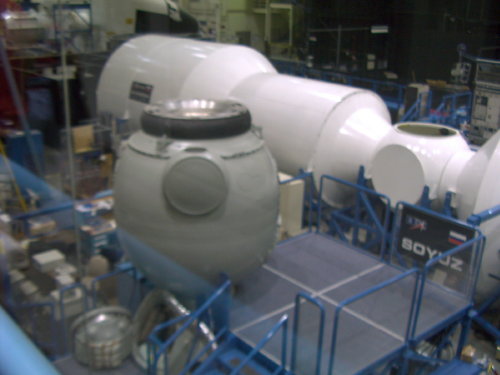 Three hours later and SmartBeetle & I honked goodbye to the Saturn V and everyNetwork....sad day (see sidebar).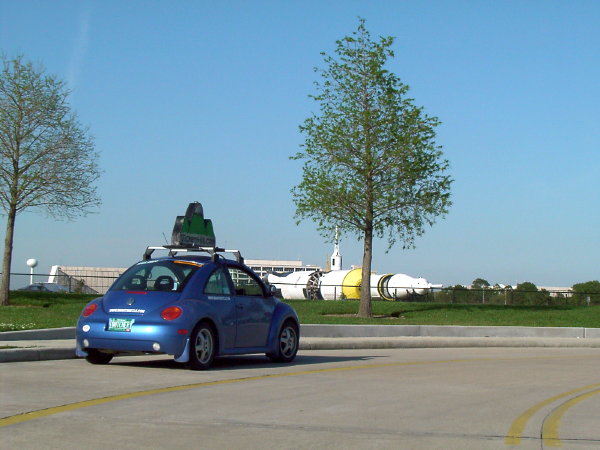 My departure from Space Center was slowed to a crawl a few hundred yards outside, it's 5 o'clock traffic. I take advantage by pulling into the Pennzoil/Lube place for my second fluid change of the trip (200 miles over due!). Once again, the guys were quick and efficient and really liked the postcards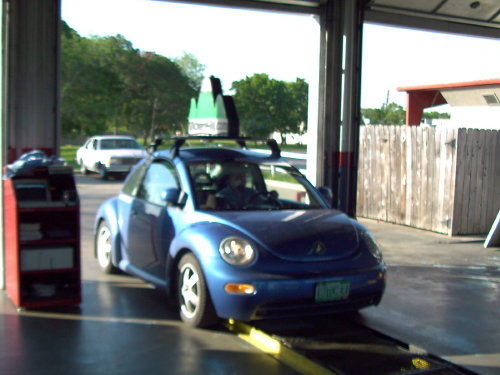 ...and at 5:25P i realize i have had all of a bottle of water for nourishment today....where o where can i find a Cracker Barrel?
6:00P - I am so significantly behind schedule. My groaning stomach quiets at the sight of the Cracker Barrel billboard - 7 miles away. Hooray.
Excellent dinner of Chicken Fried Chicken, gravy, PictSweet corn and carrots, cornbread and lemonade....it was worth the wait. I literally order my food, step up to borrow a sheet of writing paper from the host stand and turn around - my food is on the table. These people really know how to impress a guy on the road.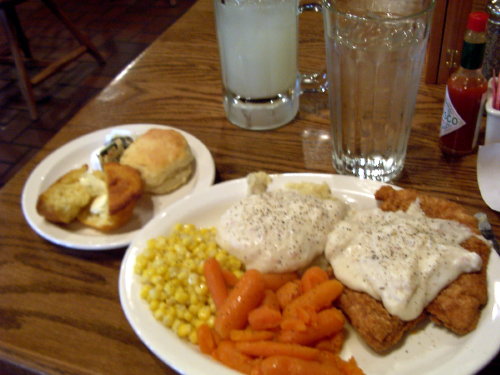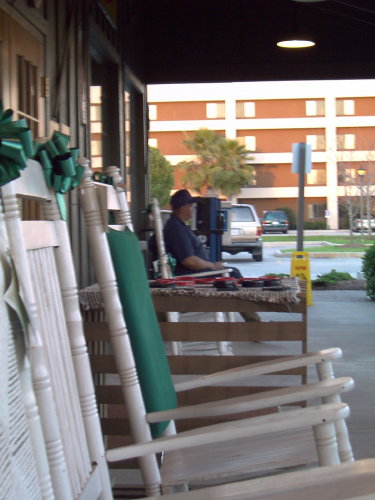 Finished eating, walked through the Old County Store, bought a cloth checkerboard and "rented" an audio book. Cracker Barrel has this deal where you can buy any Book on Tape and then return it at any other CB while you are driving and they only charge you $3. As long as you like, listen as many times as you like. I can't say it loud enough - I Love this place!
There are even a long row of rocking chairs out front for me to relax in after the hearty meal.
7:10P
- full belly and a few gifts later, a nice Texan walks over the SmartBeetle as i load up the gear. "Ok, I'll bite, what's SmartBeetle and VickeryHill.com?" I explained a bit about the trip and the Internet journal. He introduced himself as Harold Reid and asked if he could sit in it. Sure. No worries. Like most others, he really enjoyed the live mapping using the GPS and StreetAtlas USA. 
Nice talking with you Harold - i'm off to New Orleans. Again, a recurring theme with baby boomers - "you're not going to drive that all tonight - it's almost 7:30?" If they only knew how short 350 miles is at this stage of the trip.
12:35A - New Orleans is hopping. I rolled up in front of the Comfort Inn on Gravier Street. The SmartBeetle won't fit in the parking garage, so the woman let's me park it out in front for the night. i told her i of my one night visit and how i wanted to see the French Quarter. "You can move your car when you get back tonight." then she reconsiders and comes back with "No, i guess not, you won't be in any condition to drive then."
So bags, laptop and camera thrown in the room (mistake), the Comfort Inn van driver gives me a $5 lift down to the corner of Bourbon & Canal Streets. There are crowds of stumbling people everywhere and music blaring. Did i read the clock correctly - it's 1:30A. He laughs as i leap out - "this is early for a Thursday night".
1:20A? - Bourbon & St. Peter. I wandered into a crowd in front of CATS Neon and there are 80 or 90 people out front looking up to the second floor balcony chanting "white shirt, white shirt, white shirt". My eyes move upward just in time to see a classic Mardi Gras moon.
Picked up a $2.50 glass of sin and bought myself a set of beads from the store next door.
Walking further down the avenue, i might have heard a faint "hey blondy".
Mind wanders - 'no, must be something else, keep moving towards that drum beat Butcher.' (you'd be surprised at how a few drinks on Bourbon Street can make you talk to yourself.
Then i distinctly hear "You in the blue vest". That's me. She was standing on the 2nd floor ledge between a drunken frat boy and a shorter, blond female dress all in black.
her: "i want your beads"
me: [point index finger at self and raise eyebrows]
her: [nod affiramative]
me: [extend arms in front of myself - gesturing some strange form of French-Cajun-Fat-Tuesday sign language phrase of "well, you know what to do"]
her: (fully frontal above the waste)
me: [laugh. remove newly purchased bead necklace and loft it her way. she caught it - people clapped. i made some sort of bowing gesture. i think there was clapping]
I pulled out the pen and made some notes. This town is a trip. "Debauchery" comes to mind.
Next stop - Kazzoo's. Live band, excellent cover songs, female singer, Maker's Mark. Credit Card. Glazed eye looks from over-marinated 24 year old women. Jealous drunken boyfriends' angry looks concerning over-drunken girlfriends hangings-on of fifth wheel college buddy. Dancing dancing thrashing, sexual mauling of bodies. $36 later and i had somehow made it home to room 602. Alarm clock said "4:55a". Exhaustion. Saturation. Pillow. Correct these spelling mistakes in the morning.
Music of the day
Swingers Soundtrack
New Radicals
REM: Green
Sinead: I Do Not Want
REM: Murmur
Sugar: Beaster
The end of an era
Most people didnt know it, but this whole trip was spawned around my need to leave Boston and my consulting partnership on short notice. Today, in Houston, I officially sold the majority of my partnership to
everyNetwork
(via SmartBeetle com link and fax machine to the Houston Space Center).
It was quite a let-down, a bit of a breath of fresh air, and a sad, forced-end to a helluva great group of people and clients I worked with over the past 4-7 years. I wish i could have told them why. I wish i could have stayed...maybe someday it will all come out....