Day 26: New Orleans and then on to Mississippi
March 31, 2000
12:21P - New Orleans. Phone won't stop ringing. Neither will my head. Apparently i missed the check out time by more than an hour. Whoops.
I piece together last night. crowds of people dancing. beads, beads and more beads. xxx. strip clubs. bars on the street. plastic cups. flaming fountains. costumed freaks.
Really should have had the digital camera. although some of it wouldn't have been fit for publishing.
Driving down Canal Street, my eyes sweep past a bar with a lunch special whiteboard. the word Catfish Plate catches my eyes and before you know it i am in front of a mess of the stuff with french fries and warm bread - all soaked in butter. not exactly gumbo - but it will do just fine!
Mississippi - RUSH comes on the radio and i roll down the windows for some air - just guiding my SmartBeetle through Mississippi.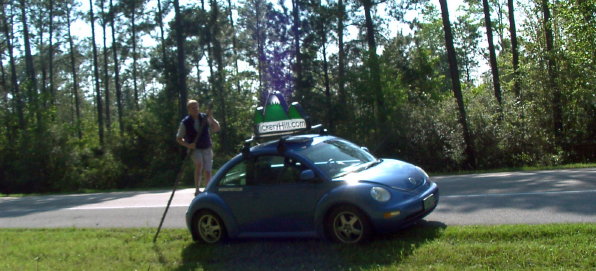 The wind on my face, the pounding in my forehead, the queasy feeling in my gut. I find myself considering death. For quite some time, i've fantasized that my perfect Heaven or After-life (aside from the catholic fluffy coulds, pearly gates and white robed loved ones) would be akin to Albert Brooks' Defending Your Life. Upon leaving this universe, one would be presented with a warm cozy living room with a wall sized flat screen and the best stereo imaginable. Possibly a stocked fridge as well, but that's not essential. The viewing selection would be a giant DVD of one's own life. Multiple camera angles, subtitles, soundtrack, the works. And I would be allowed to view any and all of the scenes of my own life. You figure we watch movies multiple times on VHS or DVD. And these are 1.5 to 2.5 hours. Maybe you get sick of them after 10-20 viewings in a year or two. Well say I live to a ripe young 100 years. The watching, re-watching, rewinding and such of my life would literally take me 1000 to 3000 years before the earliest possibility of boredom could set in. And by that time, I most surely would forget something watched but a few years (of heaven time) back. So most likely, I would never get bored of watching. It would be an eternity of memories. All the laughter. All the tears. The fears. The pains. The Loves. The Joys. A movie of self with unlimited popcorn and Junior Mints. Heaven.
3:40P - Hattiesburg fpr fuel, water & tic tacs and then back to the audio book
Mississippi is quiet and peaceful. The sunset was slow and a bright contrast to the lush green grass on the side of the two lane state highway

7:00P - Pull into the Greenwalds just after sunset. Danny's mom and dad are great to see. Made me some Tea, we toured the new house in Amory, MS and even rolled Joan's Beetle out for a little kiss.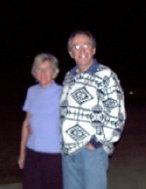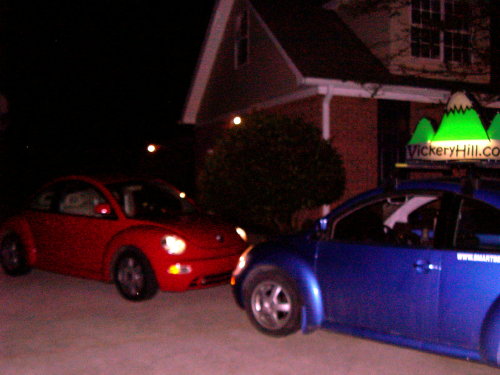 9:00P - onward to Memphis. Late as usual. I hope my Memphis hosts are still awake when i get there. Eric Albertson is an old friend from High School who moved down here in 11th grade and i haven't spoken to him since. He's married and doing archaeological work around the Southeast. I spoke to his wife, Mairi last night, and she said no problem on the visit. i can't wait to catch up on 12 years.
11:15P - after a last stop for re-fueling, i finally made it to Memphis and the Albertson's. Shook hands, brought in my bag and computer and opened a beer. We stayed up for hours talking of Indiana Jones experiences and watching wedding videos. And go figure, they have Tic Tacs on the kitchen counter top!
Music of the day
Book-on-tape: Chistopher Buckley's LIttle Green Men