Day 27: Memphis, then on to Atlanta
April 1, 2000
Noonish - I woke up in a daze, not quite sure where i am. Sounds of whistles and crowds - Gambler's playing 989 Sports Hockey on the PlayStation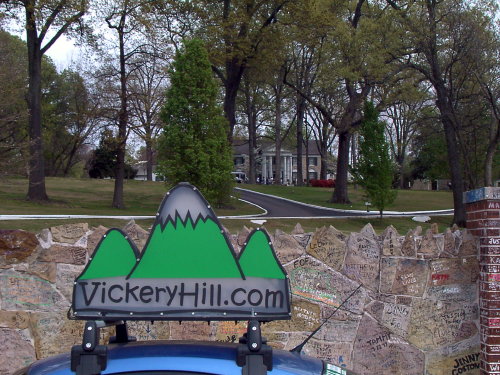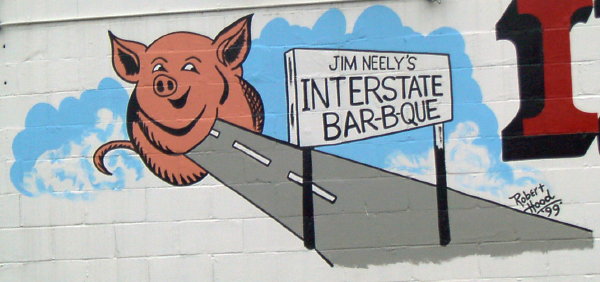 1:00P - Lunch at "the best pork sandwich in Memphis" - Jim Neely's Interstate Barbeque. Large chopped pork sammich, 6oz baked beans, 6oz cole slaw, lemonade. Scrumdidliumpcious!
3:00P - Eric and Mairi hop in the back of the SmartBeetle and we head downtown to Beale Street for a beer and a walk around Memphis.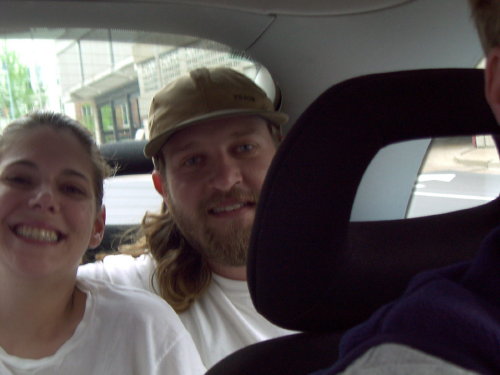 4:40P - On the road to Birmingham, and two problems crop up - 1) Eric, Mairi and I forgot to sample the Pecan Pie! 2) Caz reminds me that not only am I going through a clock-forward leap into Eastern Standard Time (add an hour), but tonight is also Daylight Savings Time. My 10:00pm ETA just became 11:00P and then 3 hours later, 2 AM becomes 3AM. Doh!
7:40P - I-78 East. The sign says "Temporary Ending to Highway. All Traffic Exit." So the rumor of a completed freeway from Memphis to Atlanta is proved wrong.
"whatever it may bring, i will live by my own policies. i will sleep with a clear conscience. i will sleep in peace". Go Sinead, go! You're pushing me through the dark wet night with your wailing.
8:04P - Baptists, baptists, baptists everywhere. Rural Church of God's Prophecy, Kansas Baptist Ministry, Alabama Baptist Center. Looks like they take their religion in large doses here.
redneck in front. redneck behind. everyone's moving along at a snail's-pace 50 miles an hour and i am hours late for a small gathering at little five points in Atlanta.
9:50P - Pulled in for gas just east of Birmingham. By the time i came back out with bottled water, there were people peering into the SmartBeetle asking questions.
107.7 The X in Birmingham has some new song on -  "you make me come....you make me complete...you make me completely miserable." The station fades before it finishes. maybe someone in Georgia will be kind enough to play it again for me.
10:41P Georgia on my mind - 45 miles outside of Atlanta and i brought the weather with me, in style....east wind bwow, norph wind bwow. I am only about two and one half hours late. i wonder if anyone will still be out.
11:55P - Atlanta, rain, park the car in Caz's driveway, cut the lights, quick shower and shave, out to the Brewhouse Cafe in Little Five Points. Dan, Mimi, Alison, Caz, Sara stick around and we end up having a few pints of beer finishing up with a quick game of Roxanne - never again.
Dan even got some postcard exposure in two places near the restrooms.
Excellent beginning for Atlanta.
back to Caz's place at 3am and we stayed up watching what i call "i see dead people"-  The Sixth Sense.
freaky movie. best watched as we did from 4 to 6am on a Sunday morning.
What a great night cap!
Music of the day
Elvis - of course!
Sinead