Day 30: Atlanta to Charlotte, NC with a brain-less Beetle
April 4, 2000
8:00A - i am pulled awake from the most peaceful sleep of the trip by a quiet alarm buzz...regrettably i have to cancel a phone appointment i had (due to lack of my laptop)
awake again at 9:10A due to the engine rev of the Safelite Window fix-it van pulling down the driveway. he found the SmartBeetle and has the begun pulling the door apart. half asleep and in frog pajamas, i respectfully leave him and the wounded SmartBeetle to the Saturday morning surgery -
me: "i'd rather not watch you rip her arm apart." (referring to the SmartBeetle passenger door)
Safelite Guy: "yeah, i understand"
me: "goodnight."
Safelite: "i'll knock when i finish"
i return to my dream machine.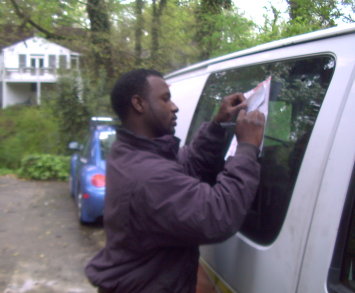 10:00A - alarm again. snooze.
10:10A - alarm again. snooze again. and again. and again.
I guess it's after 6 pulls from the netherworld that it occurs
to me to just set the alarm for noon next time. Of course i will forget this enlightenment
approximately 2 minutes before seeing my next alarm clock.


10:20A -     knock. knock. who's there? The guy from Safelite who is finished with the window. Two Hundred Fifty dollar deposit. And all i got was a receipt. Well, he also vacuumed the whole car. Safelite rules! Back to bed.
11:10A - alarm off for good. still in bed. the presence of fear ways heavily on me.
fear leads to anger. anger leads to hate. hate leads to suffering.


1:00P - Lunch pick up at Henri's Bakery. Chicken Salad and they forgot the damn cheddar. A jeweler stops me in line for an explanation of the SmartBeetle. We end up discussing business and the trip for 10 minutes. Excellent - i look forward to staying in touch with her.

3:40P - waiting for the fear to subside. a soft song begins... 
"she doesn't own a dress, her hair is always a mess
catch her stealing, she won't confess...she's beautiful
smokes a pack a day, wait that's me, but anyway.
she doesn't care a thing about that hair....

her she is again on the phone. just like me hates to be alone.
we just like to sit at home, rip on the president...

she only drinks coffee at midnight, when the moment is not right, her timing is quite unusual.
you see her confidence is tragic, her intuition magic.
in the shape of a body unusual. meet virginia. i can't wait to...meet virginia....

the way she wants to live her life. and she thinks about her lives.
pulls her hair back as she screams. i don't really want to be the queen...

...the moment is not right. sweet virginia."
good song.

now i hate this city, but she did bring some serious emotion to bear. love the people, hate the crime.
Hope the thief can't afford to buy the power cord for the laptop....that should give him/her about 2 hours of useful energy in the old brain.

4:01P - two more vests delivered. down to 19. Wave good bye and i am out of dodge.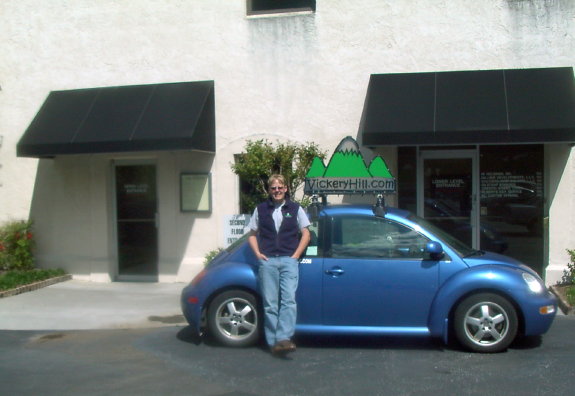 8:04P - arrive Charlotte and Deb guides me in on the cell phone - some sort of gated community. the SmartBeetle is confused as all hell having to wait to be electronically buzzed in through gates.

9:00P - We met Michelle at Manzetti's for drinks and Spinach Nachos, then dinner and a Harp. Deliver some postcards to the bathroom

11:30P - Pain, pain and more pain. Both Deb and I are in intestinal agony. Stomach cramps. our common denominator was the Spinach Nacho plate....bad idea.

1:00A - both sprawled out on living room furniture, we manage to ease the pain with a late night "i can't sleep" viewing of Caddyshack. Chevy Chase is on fire. thank god for Basho's humor...

bed at 3:03P according to the tube display. argh...no more spinach fer me.

< previous day | next day >
Music of the day
Styx
REM
Sugar
Dave Matthews Band