Day 29: Atlanta break-in
April 3, 2000
11:30A - Due to Daniel's recent accident, he needed a ride to work and i offered. Drove out to his apartment at Overlook - the hill where Sherman planned his attack on Atlanta. And yessiree bob - he had two pieces of toast cooked for my breakfast. excellent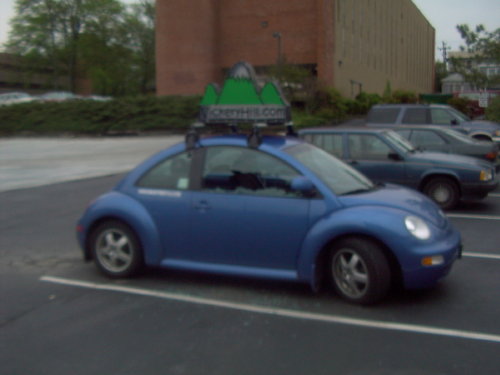 3:55P - back to NETC for 5 minutes to make sure Carrie can cash my check.
4:31P - walked outside of 3108 Piedmont, and well, my stomach fell through my shorts. DISASTER. The SmartBeetle has been violated. Some loser smashed the passenger window wide open. My heart quickly followed my stomach south and i poked through the shattered glass to find that the Digital Camera, the GPS, Cell Phone and Cowboy Hat were all intact. The Dell laptop is gone. The brain of Mr. Roboto has be sucked out of it's body. 11092.6 miles of fearless journey.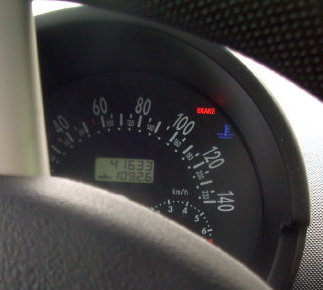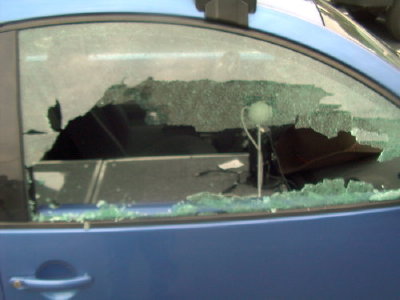 Action Plan - WIND UP THE GEARS OF THE MIND. I need to act fast to continue the trip.
Cazzer called Atlanta's finest and they informed her that they would NOT be coming out as a "courtesy" to me so that i may leave the scene of the crime if necessary and go elsewhere if i like. WHAT? Screw the police. I guess the police report people are going to call back so that i can file a claim.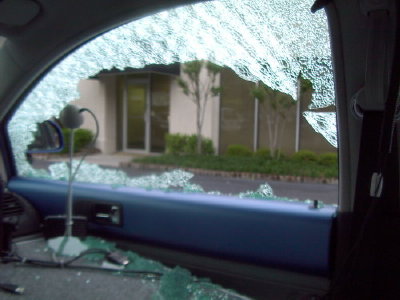 5:08P - Cops called back. Report filed. She says they monitor pawn shops daily and they are required to give serial numbers of new equipment coming in. Fat chance i see the laptop again. 
Inspiration or Desperation:
I need a spare PC for the trip. Called Andy Steggles in NYC. No sooner do i mention the emergency and he informs me that he will personally FEDEX his own Dell Inspiron 7000 to my next stop in North Carolina so the SmartBeetle can think again. Karma and a serious friendship play themselves out once again.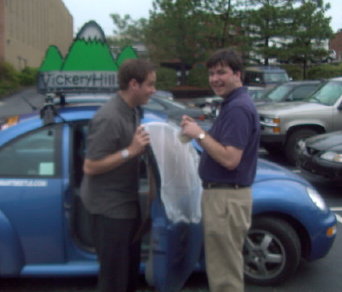 5:25P - Called Hawaii for a laugh. Alison gives me giggles and a bit of sympathy - thanks.
Called 4 glass places - everyone is busy, no one has the passenger window for the SmartBeetle. Finally find a good glass company - she is finding me a window and an installer in Atlanta. Found my insurance company and everything. She had a laugh with me about the Atlanta PD's Courtesies. Finally a good-humored insurance claims person! We're set up for a Tuesday morning glass install.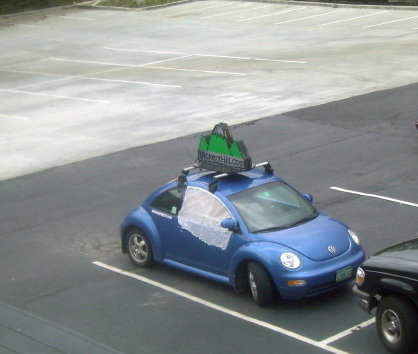 Great thing - There is a storm warning for Thunderstorms and tornados - here in Atlanta. Right now. nice. let's hope the plastic bag & cardboard Dan & Rob helped me install window keeps the water and wind out.
7:00P - park the DumbBeetle in Caz's driveway hoping the coming thunderstorms won't rip the band-aid off. Lie around wondering why so many people let It control them.
8:00P - NETC calls - we're going out. Sambuca's after they get out of work at 9.
9:00P - NCAA College final game starting between Florida and Michigan State. I bet Sugden is there. I'm in a cab to Piedmont.
11:15P - Moved on to Fado in Buckhead.
Boxty, no Boddingtons, no Bull in a game of Truth, What goes on tour....
SmartBeetle brain stolen
1000's of original digital photos
GPS data (temperature, pressure, speed, location, etc) gathered from every 5 seconds for the last 29 days - gone!
$2000 Dell laptop in someone's pawn shop
Trip Interruptus!
SmartBeetle window smashed
Sick to my stomach
Karma rears its every-present head and brings magic to a terribly negative situation: carrie has been a star through all of this.