Day 38: Atlanta II - day 5, then onward north (again)
April 12, 2000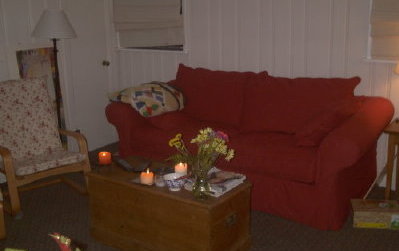 12:20P – regretfully leave "Big Red" behind and begin the northeasterly drive to Wake Forest (for the second time!)
12:40P – Another matching bug through the windshield – sans sign.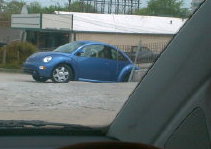 1:13P – Audio - Athens, GA exit off the highway. Indigo Girls' Kid Fears plays on CD. And as usual, Michael Stipe is dead on -
what would replace the rent with the stars above

replace the need with love

replace the anger with the tide

replace the ones, the ones, the ones that you love.

The ones that you love
1:39P – Lunch in Commerce, GA at – you guessed it – Cracker Barrel. As I smartly return my 2nd book on tape, I prove wrong the assumption that "you can just drive with them and only get charged $3 when you return it." Turns out the charge is $3 PER week and they hit me for $6. Newman!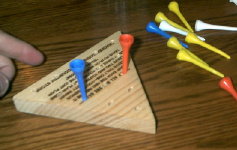 had just enough time before the chow arrived to improve my game of golf or whatever those wodden triangles are named. i am no longer a 3 Tee Eg-Nor-A-Mus, just slighty dumb.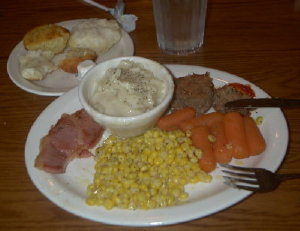 While once again tempted by the 4 vegetable Pictsweet platter, i opt instead for the 'red-neck' sampler: Country Cured Ham, Chicken & Dumplins, Meatloaf & 2 Vegetables. My waitress had the guts to suggest dessert. I guess you could say my appetite has returned.
doesn't look pretty, but tastes wonderful - i have a feeling it's the 15 ounces of butter.

3:00P - Detective Dix from the Atlanta Police Department on the line....hello? He is calling about my police report. seems they have recovered some items that might be a possible match. they need serial numbers, models, descriptions...can i provide these things?
Nope, but Hallgren can - following a quick call to eNi, i reach Dix's voicemail, speak the numbers in military fashion (niner, quebec, alpha, tango, fiver...) and thank him for looking. Man i would love to have my original photos and GPS data back. the overrated "we'll see... is appropriate mind manure.
Current Ear intake (bare naked ladies): "In the car, we were looking for ourselves and found each other"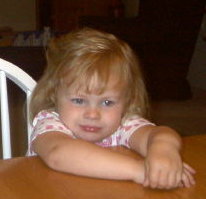 6:47P - Made it to Wake Forest and the Rusin's. Again. The kids are fed and excited to play, but i can only stay for an hour (which will already put me in DC at around midnight)
Chicken combination of submarine sandwiches, birthday cake and four gifts wrapped complete with cards. They even sang a choppy Happy Birthday with their mom leading the way. How a four and two year old remember the words...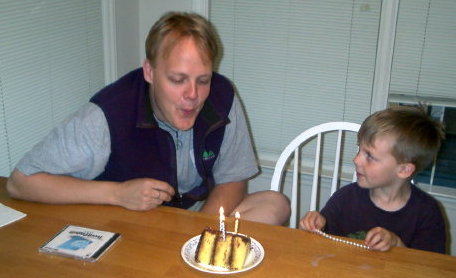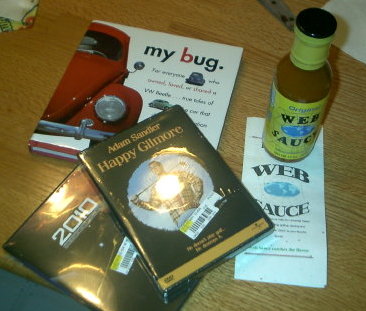 Internet BBQ sauce, two DVD's and a coffee table book on Beetle's and Bill has proven his shopping skills (for 29 year old male specific gifts anyway)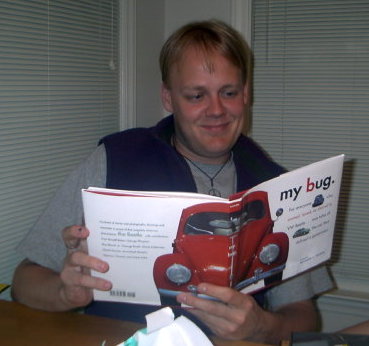 8:00P - Trevor and Melanie give me hugs (Max is waving his little club of an arm goodbye) and i am on the road north. Route 1 to I-85 to I-95.

9:50P - Hello Richmond, Virginia. Cigarette manufacturing and childhood home of mad scientist Dr. Bill. No stopping now.
9:58P - Goodbye Richmond.

12:01A - Just happened to have in an R.E.M. disc - Don't Go Back to Rockville. Arrive at Tuohey's split level in Maryland. The Tuohey childhood home is now being torn apart by him and rebuilt around his living there - reminds me of the past year at Vickery Hill and all the assisted labor throughout the past summer fall and winter....kitchen cleaning, cupboard removing, cob-web dusting, Duff building, tree pruning, yard mowing, roof repair, bedroom painting parties, carpet cutting, bathroom plumbing, igloo building, SmartBeetle retrofitting. I can't help but be thankful for all the sweat & laughter had.

Patrick & I in true geek form stay up 'til 2:30 watching Radiskull & Devil Doll from the Internet...my eyes water at the excessive laughter. Joe Sparks rules!
He has two printers, cable jacked directly in, 21 inch monitor and all the fixins'. This is one helluva a command center. A true home office for Self-Unemployment.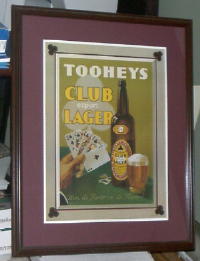 and he has given me a framed work for the Vickery Hill Collection from Australia - a Perth-Providence Lager of Choice advertisement, his name-sake beverage, albeit slightly misspelled.

4:47A - finally finished with the photos and re-charging the SmartBeetle brain, i crawl under my grey fleece blanket and Vermont-smelling pillow. sweet dreams peach!