Day 37: Atlanta II - day 4
April 11, 2000
10:40A – Seriously loud banging wakes me up in a shock. 20 minutes to recover and it was time to make a call to my friends at Harpoon for remote web-dB support. Another successful import and i am getting ready for my last day in Atlanta (i swear this time!). Caz is off to work so i pack up my things for a trip to Chamblee (stress on the first syllable i'm told) to the only Authorized Toshiba Repair Center on the east coast. My camera lens is distorted and foggy - i hope they know what they're doing at Norman's Electronics.
1:50P - Dumped the camera at Norman's, south to Starbuck's in Buckhead. Spent seven Bucks on some Chai Tea & Coffee. It was well worth the trade to gain some quiet closet time for web updates.
2:10P - Spoke with my D.C. contingent - not too happy with yours truly. If they're reading this, maybe i can throw an apology their way before i arrive on the doorstep.
Lunch is to be had at the Buckhead Bread Company. Some soup & Mandarin Chicken Salad – as well as some Hawaii-memory-kindling Pineapple-Guava juice. My last day in Atlanta (I keep saying that!) is shaping up quite nicely - even with the momentarily lapse of reason possible insect incident on my left arm while out on the patio - shake it off Butcher, it was only a wood chip.
4:00P – back to the closet to work on web and eMail til 8 bells. I lose time and day turns to dusk. By 8:30 i am parking the SmartBeetle in the driveway and on my way to a quick nap on my new favorite lounger - Big Red, the couch.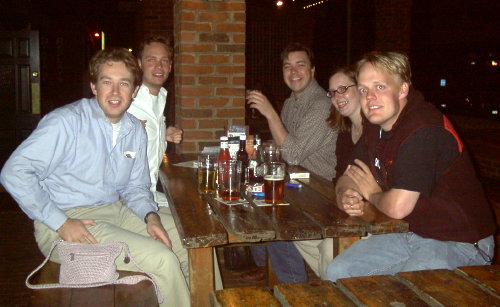 9:20P - Caz shows up just as i was about to settle down for a smiling nap. The two of us are off to the Rose & Crown in Buckhead to meet the other NETC folk for baskets of chips, laughter and pints.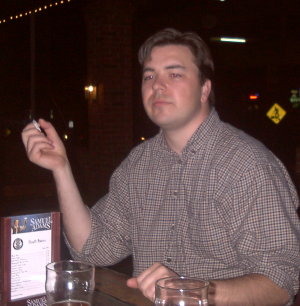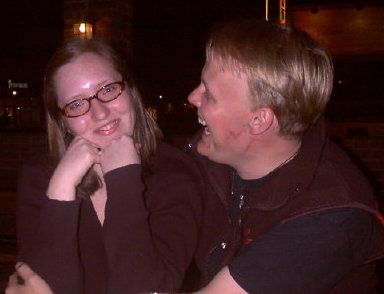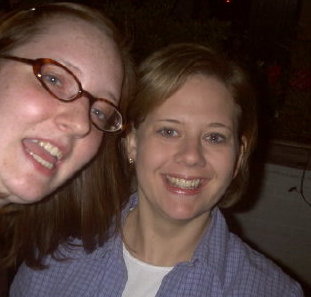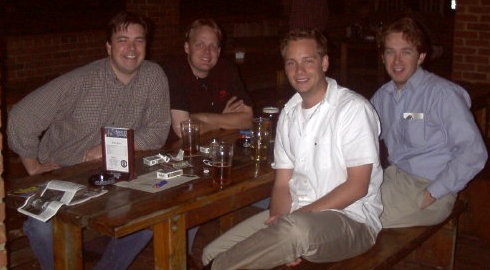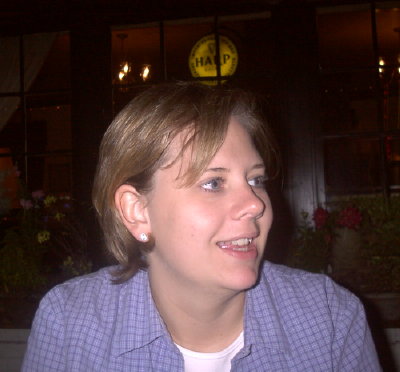 As well as the now dreaded game of spoof for $5. Dan opted out early, i missed a perfect 'spoof' call and lost to Robb. I have to quit playing this game. We shadowed Johnny on the way home to 857 for bed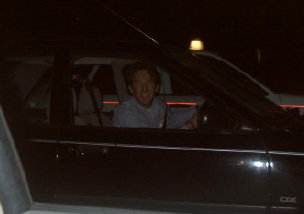 Joke overheard at the Rose & Crown: A horse walks into a bar and the bartender looks over and says "why the long face?"  
An email today from a fan
"You know what I think, I think you should just stay out on the road. That's right just keep driving around...Everyone needs to see the SmartBeetle, and not just that but the revelations/ideas a guy gets on the road…I can just see MTV or some news/media thing saying 'have you seen this SmartBeetle guy, he just keeps driving around?'  VW would love the advertising, and would hopefully use you…They would ship you overseas, just letting you drive around and talk about it.   Keep it in mind.  The hardest part would be committing, you'd probably end up spending a lot of money just driving around before you picked up sponsors.   But that is the thing with any commitment, you have to go broke before you go big."
-name withheld to protect the innocent/guilty